Take this road legal, petrol powered log splitter from site to site with ease.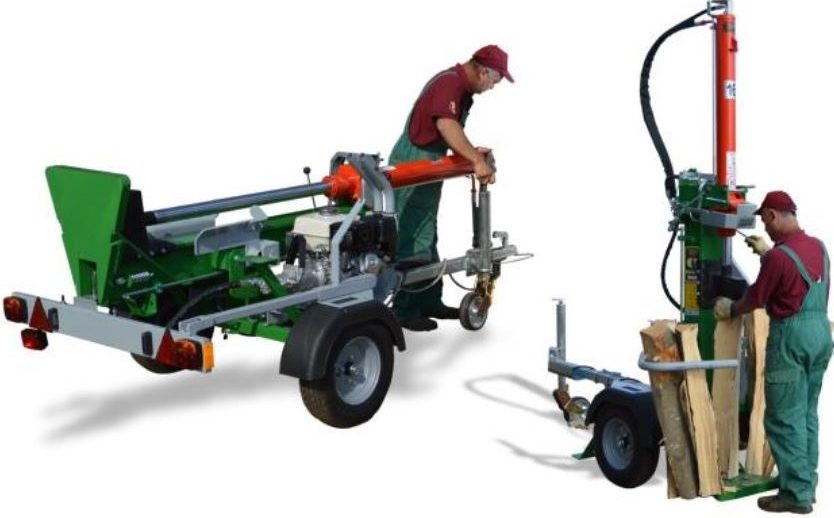 Features include
The cutting force of these log-splitters are 13  and 18 tonnes.
These log-splitters are ideal for forestry workers and private owners.
Trailed approved for road transport up to 130 km/h.
They can work everywhere both vertically and horizontally.
They are suitable for logs of up to 70 – 80 cm in diameter.
The cutting stroke is fixed.
The control position is optimal and ergonomic.
The "Speed and Power" double speed is standard on all models.
The hydraulic cylinder is retractable to aid horizontal transport.
The Teflon guides are self-lubricating and interchangeable on the cutter.
These log-splitters are available with 10 Hp and 13 Hp pull-start petrol engines. For agricultural use the log-splitter is available with PTO 540/revs, towing eye and fixed axle for maximum speed of 40 km/h (without mudguards).
When towing the ram can be closed allowing greater distance between towing vehicle and ram.
Models and specification
Model
36.M.120
Power (Ton)
16
Power source
Petrol engine (Honda)
System leader
Yes
Pump
Double pump
Power
9hp
Cutting speed
1st 6.3cm/sec
2nd 14.1cm/sec
Type
Vertical
Log length (cm) Vertical (V)
110 (V)
Weight (kg)
490
Log diameter (cm)
80
Fast tow trailed
yes
Optional
60° blade, cross blade, intermediate table