Description and features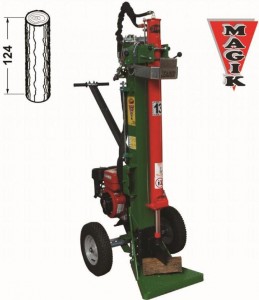 These log-splitters for professional use with cutting forces of 13 and 18 tonnes can split very large logs with diameters of up to 90 cm and lengths of up to 124 cm directly on a ground base.
The Teflon guides are self-lubricating and interchangeable on the cutter.
The hydraulic cylinder is retractable to aid transport (h. 190 cm).
The "Speed and Power" double speed is standard on Magik 13-tonne log-splitters.
The "Speed and Power Automatic" double speed is standard on Magik 18-tonne log-splitters.
The control position is optimal and ergonomic.
The cutter stroke is adjustable
With system leader
New Magik Models (2019)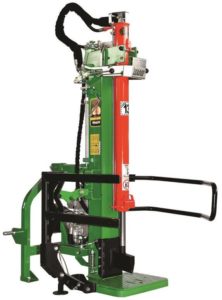 Due to EU regulations Thor log splitters, like all other manufacturers, have had to make changes to their log splitters to meet these regulations. We still have some of the old models in stock but we have sold out of most. Please note that some of the images and videos, displayed on this page, may be of the old type and as well as the new type. Listed below are the new features on the Magik range of splitters out in late 2018:
New wider splitting base
New stroke Cutter Adjustment
New shape of the lateral arm mounted on the right hand side of the machine
New side hoist mounted on the left hand side of the machine
To view the new Magik model working please select the 4th video below.
 Models and specifications
 Model
34.VS.10.PD
34.V.PF
36.V.PF
34.223.PD
 Image
 
Power (Ton)
13
13
18
13
Power source
Petrol engine
Independent PTO Pump by shaft
Independent PTO Pump by shaft
240v electric
System Leader
Yes
 Yes
Yes
Yes
pump
Double
n/a
n/a
Double
power
10 HP
n/a
n/a
2.2kw
Cutting speed
1st 7.5 cm/sec
2nd 24 cm/sec
1st 9cm/sec
2nd 29cm/sec
1st 8cm/sec
2nd 19cm/sec
1st 6.7cm/sec
2nd 21.4cm/sec
Type
Vertical
Vertical
Vertical
Vertical
Log length (cm)
124
124
124
124
Weight (kg)
327
196
353
330
Log diameter (cm)
90
90
90
90
3pt mounted frame
–
Yes
Yes
–
40 cm pneumatic wheels
Yes
–
–
Yes
Optional Extra's
All above log splitters offer the following extra's:
60° blade
cross blade
Intermediate table
log lifter
Winch
Price list
There are no price lists available for this item.
Instead, please use the enquire form, email, or contact us by phone.