Thor – Heavy Duty Alpino from 6.5 to 8.5 Ton
The Thor heavy duty Alpino log splitters are designed for ease of use, thanks to the 'System-LEADER' giving a long work life, suitable for both home and commercial use.
Description and features:
The controls are of the "System-LEADER" type (THOR patent). These log-splitters for domestic use with cutting forces of 6.5 to 8.5  tonnes are strong, versatile, and easy to use.
Very fast cutting and return speeds thanks to the double pump. Cuts up to 10cm per second with a return speed of over 12cms per second
They split very big and difficult logs up to about 45 cm dia.
The cutting stroke is adjustable between 2 and 50 cm.
The transport wheels are semi-full wheels :
20 cm diameter on the 6.5 ton model
25 cm diameter on the 8.5 ton model
NEW Double Side Extensions
NEW Double Fall arrest guards mounted on levers
Models and Specification
| | | |
| --- | --- | --- |
| Model | Alpino  65.100 | Alpino  85.100 |
| Power (Ton) | 6.5 | 8.5 |
| Power sauce |  Electric 230v | Electric 230v |
| Type |  Vertical | Vertical |
| System-LEADER | Yes | Yes |
| Pump | Single | Double |
| Splitting speed | TBC | 10cm/sec to 1.8cms/sec |
| Motor / engine size | TBC | 2.5hp |
| Weight (kg) | 110 | 110 |
| Log length (cm) | 54 | 54 |
| Log diameter (cm) | 45 | 45 |
| Standard Wheels | Plastic | Plastic |
| Optional extras | 60° blade | 60° blade |
Customer review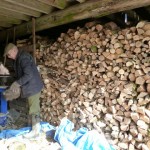 "I originally purchase the Thor log splitter from another distributor in England, before Davies Implements were dealers. I have had this 6 ton model now for approximately 10 years. It's one of the best bits of kit that I have owned. Strong and well made and no log has ever beaten it, even knotty bits of oak, nor has it ever let me down. We burn a lot of wood having two wood burners to keep going, so reliability is an important issue to us.
Although the unit is described as for "Domestic use" I would suggest it is so well made and has been completely reliable for all this time. In my opinion it's more than just a domestic machine. The backup for advice and spares is excellent so no problems there.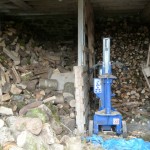 I particularly like the foot pedal idea (System leader) used to clamp the log before splitting it's a brilliant safety feature as is the fact both hands are out of the way in operation and on the two hand controls, very well thought out.
For years I had split logs by hand, it's good exercise but very tiring when splitting large amounts of logs. With this machine 2 to 3 hours and one can get through pretty impressive quantities with minimum effort.
If any one has any doubts as to what can be achieved please see the photo provided with the testimonial. This is what I have split recently"
Mr. Clive Furr, Near Llansadwrn, Llanwrda, Carmarthenshire