Hakki Pilke Easy 50S PRO firewood processor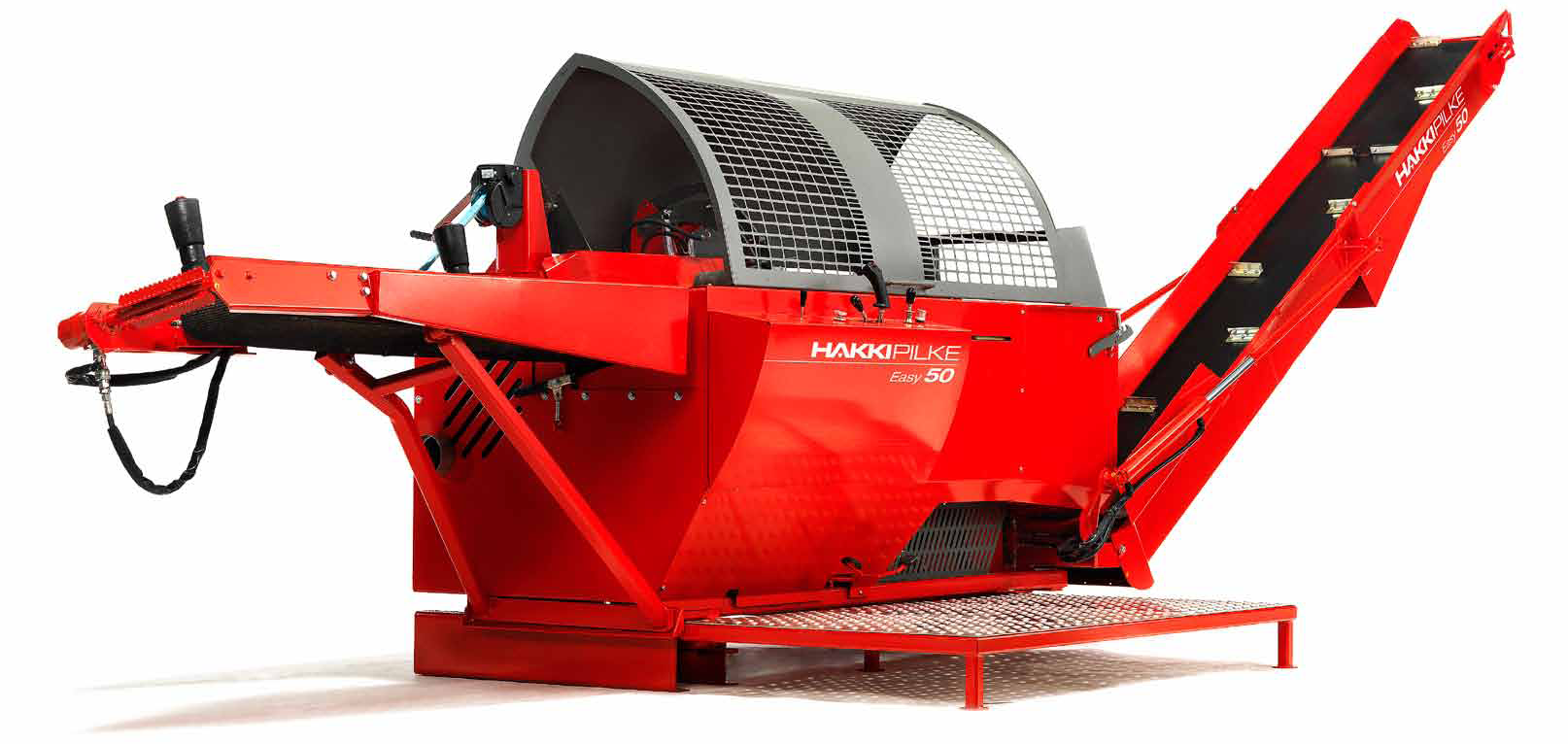 The new Easy 50 S, nicknamed the 'Big X' (Previously known as 1×50) is an extremely powerful wood splitting solution for industrial use. The superior, professional Big X showcases the expertise and pioneering status of Hakki Pilke as a developer and manufacturer of firewood processors. A cubic metre of firewood is produced by seven plunger strokes.
The renewed 'Big X' is even more efficient and ergonomic than before. Due to the automatically adjusted splitting power (4–30 t), the machine is an efficient and productive power tool. The machine will not leave you high and dry, even with the thickest of trees. Thanks to its sufficient splitting power, even the thickest trees will be split into right-sized firewood.
The self-cleaning output conveyor will separate fine debris. Right-sized and clean firewood will dry faster and burn cleanly. These are important qualities in commercial firewood. 'Big X' is an ergonomic workhorse for the professional. Input, cutting, and splitting are all controlled with just one joystick. Thanks to the solid bottom splitting groove and integrated dust remover, the working space will remain clean and safe.
The optically correctly designed perforation and colouring of the new safety cage eases work monitoring. At 2100 kg, the machine is light for its size and has an ideal weight distribution, meaning that it can be safely transported using the three-point hoist of a medium-sized tractor. Due to its properties, the 'Big X' is favoured by professionals producing firewood from the hardest wood species in Europe.
Power options include: PTO or PTO combi with 3 phase electric
Optional extra's:  6, 8, 12 & 16 way splitter, hydraulic log decks, saw dust extractor, working platform
Specification
Power demand: 20hp / 15 kW
Maximum log diameter: 47 cm
Length of sawbar: 20 to 60 cm
Splitting cylinder: 80 mm and 100 mm
Splitting blade (standard): 2/4way
Length of cutting saw: 59 cm
Harvester saw and chain
Measurement of log length: automatic and stepless
Volume of the oil tank: 25 litres
Splitting has fourdifferent splitting power options: 8 Ton, 16 Ton, 24 Ton, and 30 Ton.
Splitting speed: regulated automatically, according to the level of resistance
Operation control: Hydraulic
Length of infeed conveyor: 2.7 m belt width 30 cm
Measurements of device in transport position:

Height 2530 mm
Width 2900 mm
Depth 1500 mm

Length of discharge conveyor:  4 m length of belt with a width of 40 cm
Discharge conveyor is hydraulically controlled sideways and lengthwise
Optional extras
6 way, 8 way , 12 way & 16 way splitter
Hydraulic Log racks and log lifters
Sawdust Blower
Working platform