World's most advanced firewood processor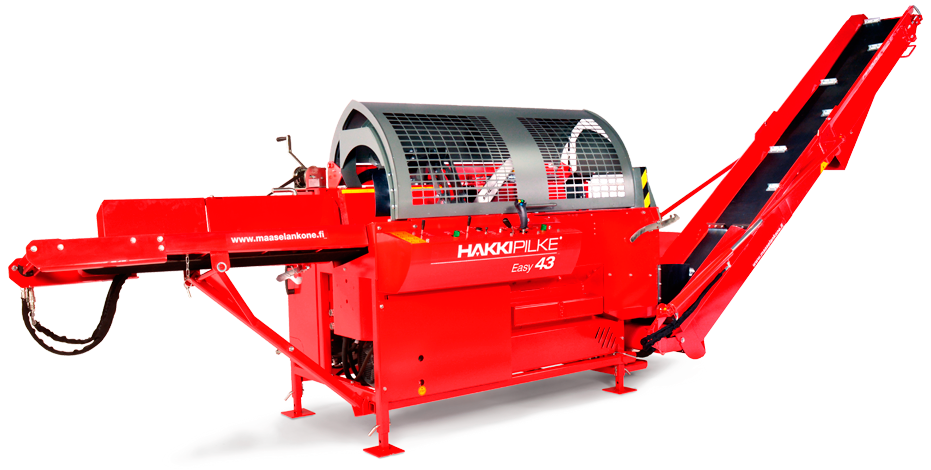 Hakki Pilke Easy 43 is an entirely new firewood processor for professional users. Positive user experience especially from Easy 42 model has been exploited for the development of the new machine boasting with many desired features.
The most visible change for customers is the brand new user interface, which is based on easy-to-use and ergonomic joystick control. Sawing is controlled using a button that always automatically applies optimal sawing pressure.
The efficiency of Easy 43 was ensured by adding a new bigger, no-delay splitting cylinder (15 t), and other new features that make material flow even smoother than before including hydraulic log presser, hydraulically retracting log measuring device as well as log landing plates.
Most important features of the new 43 PRO:
new powerful one button-operated saw
hydraulically retracting log measuring device
log landing plates
AC 10 automatic chain tensioner
wide hydraulically swivelling out-feed conveyor with in-built debris cleaner as an accessory
log feed assist mechanism as an accessory
TECHNICAL SPECIFICATION
Max log diameter:  430 mm
Max log length:  600 mm
Max splitting power:  15 t
Saw chain:  .404 1,6 68vl
Bar:  18″
Power source:  PTO / Electric / Combi -15 kW
DIMENSIONS IN TRANSPORT POSITION
Height:  2560 mm
Width:  2540 mm
Depth:  1400 mm
Weight:  1400 kg