Hakki Pilke Easy 42 firewood processor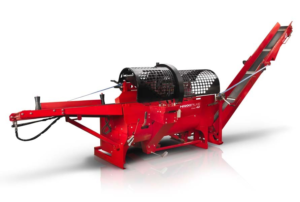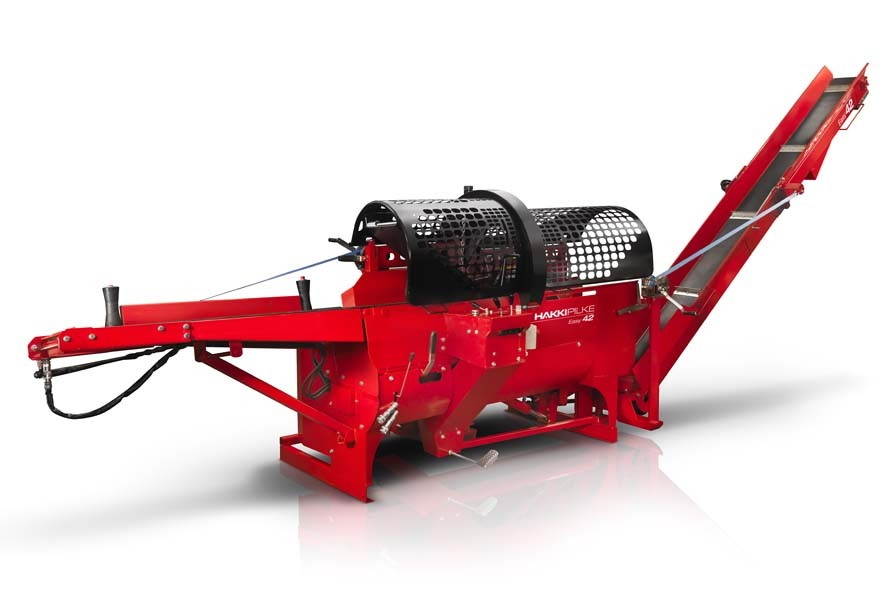 The Easy 42 firewood processor is capable of handling wood up to 42cms or 16.5″. The machines comes with hydraulic joystick controls as standard making it easy to load, cut split etc. The weight of the processor is just over 1000kg making it a very robust machine. The processor has a variable splitting force so making it quicker to split smaller diameter wood and easier with bigger pieces especially when splitting 8 ways.
The processor has a stop and start hydraulic conveyor slewing from side to side and the chain only turns when cutting thanks to the harvester hydraulic chainsaw sawhead. Another standard that is fitted on the Easy 42 is the optical laser measuring tool as well as the mechanical measuring device.
Power options include: PTO, Combi PTO with 3 phase electric or 3 phase electric only
Optional extras: 6 & 8 way splitter; Hydraulic Log racks and log lifters; Sawdust Blower;
Specification
Power requirement: 20HP / 15 kW
Cutter bar: Harvester 20″ bar
Splitting force: 3 – 13,2ton
Splitting blade: Standard 2 and 4-way
Max log diameter: 42 cm
Max firewood length: 60 cm
Hydraulics pressure: 190 bar
Hydraulic oil volume: 65 l
Weight: 1065 kg
Output conveyor length: 4 m
Power source: PTO, three phase electric motor or Combi PTO or Three phase electric only
Optional extra's
6 and 8 way splitter
Hydraulic Log racks and log lifters
Sawdust Blower
Customer review
Mr. Jones, LLandrindod Wells
'After thinking about upgrading from by 1×37 for over a year, I can't believe that I doubted the machine for so long. What a difference. The variable splitting force is great, and when you really need that 13ton force, it still goes through the wood quickly and very impressively. The conveyor moves from side to side at a touch of a lever and any other changes that are required are done equally as quick. I can't recommend this machine enough.'