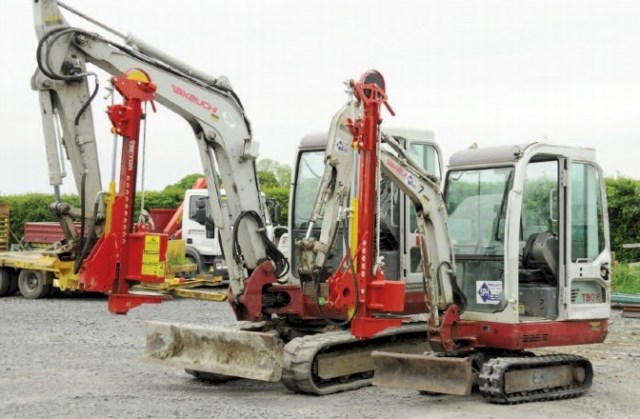 This post driver can is easily mounted on your mini excavator, resulting in a flexible unit that will both dig and drive posts, and you never need to leave the cab! Fits excavators from 2.5 tonnes and up.
This post driver can be mounted on any make of mini-excavator weighing from 2.5 tonnes up. It is very easy to use in awkward situations and is a robust machine which will give years of service. This excavator will happily knock in a 8×8″ strainer.
This kit will transform your mini excavator into a very versatile and extremely effective fencing machine. Mounted on main king post, this is a highly manoeuvrable machine. Forward and rear tilt is achieved by using blade and digger arm combination.
Clean fence lines as you go, remove obstacles, dig out boulders, bury under gate cables and hammer in posts. A complete one pass system.  Access to the most difficult positions is a breeze with this outfit.
The video below will give you an idea of just how easy and convenient fencing jobs become when you combine this post driver with an excavator.
Main Features
200kg – 380Kg solid steel hammer
(for the 380kg weight the excavator needs to be 8 ton or above)
600mm side shift
25° mast tilt
Three position rope adjustment
Independent post cap system
Heavy duty post cap
Optional cap adaptors for square posts
Transfers the weight of the mast onto the post while driving, making the hammer more effective
Easily operated by one person
Short mast makes it very easy to transport both digger and post driver on a trailer
Hoses supplied with 1/2″ standard male quick release fittings. Please note: Any other fittings required will be an additional charge.