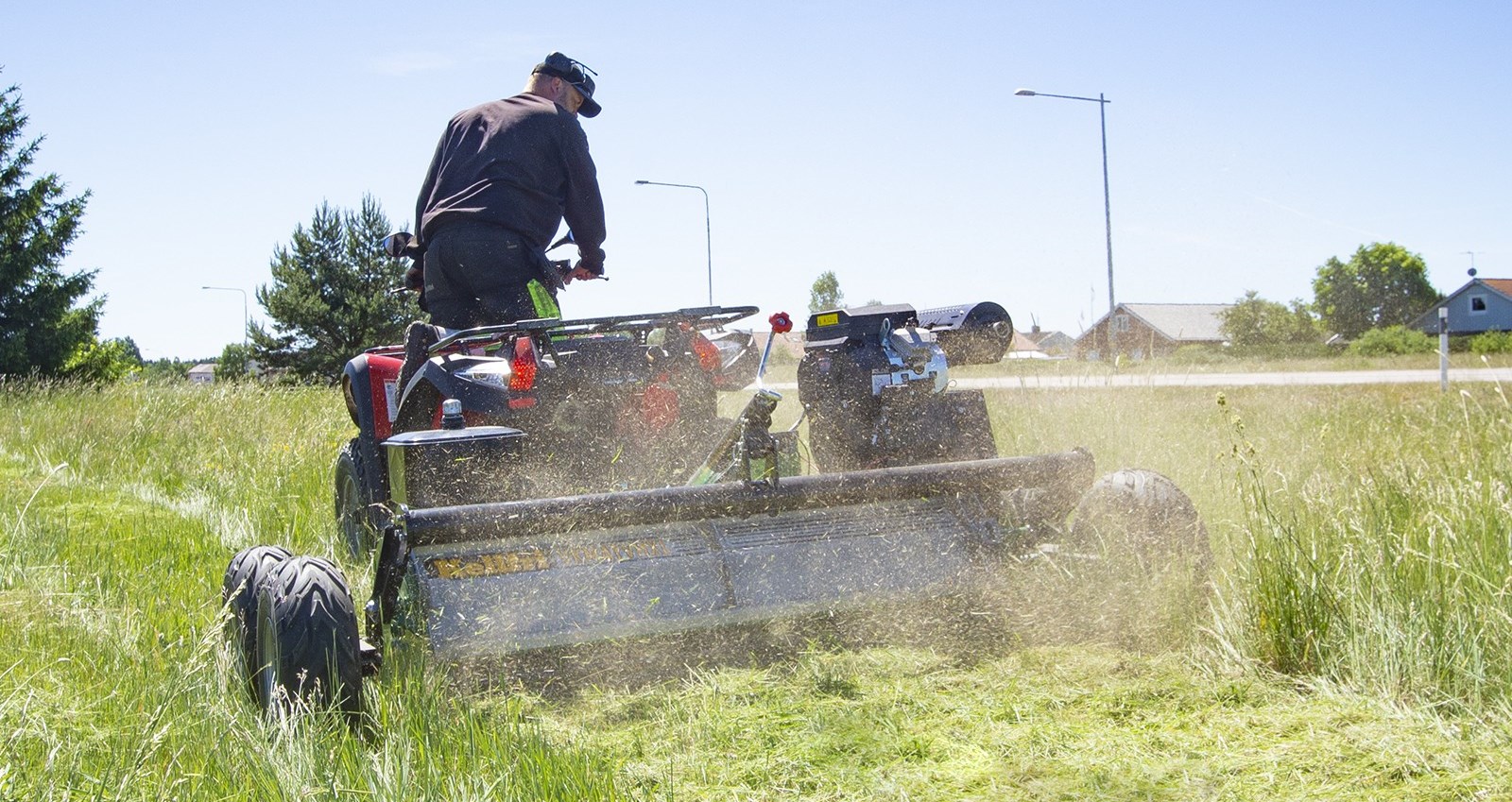 Strongest ATV mower in the Nordic region
32 Heavy Duty hammer flails weighing 354 g each: Robust cast flails for grass and saplings
Working width 150 cm
Strong bogie clevis with two 19×7-8 wheels on each side
Adjust the angle of operation with the turnbuckle under the tow bar
Skids at the sides for stable, smooth operation
Chain guard at the front to protect against ejected stones and clippings
Openable rear flap
23 hp V-twin motor with 673CC
Electric start-up
Wheel base width 219 cm
Moveable tow bar, right hung and centrally hung mounting
Specification
Working width:   1500 mm
Power requirement:   23 hp
Wheels:   4 x 19×7-8 Bogie
Cutting height:   Adjustable
Operating speed:   6-12 km/h
L x W x H:   1720 x 2190 x 1100
Flails:   32 hammer flails Heavy duty, 77 mm/354 g
Weight:   405 kg
Heavy duty – for those who demand that bit more
With Kellfri's Heavy Duty Flail Mower for ATVs, you will be able to take care of your overgrown terrain.
Robust chassis and bogie means that it can cope with most situations. The bogie enables the machine to run smoothly and it is responsive in tough and uneven terrain. A roller with Heavy Duty hammer flails weighing 354 g each makes cutting long grass and even saplings an easy task with your ATV Flail Mower.
Its weight of 405 kg provides an effective force to press down branches and vegetation, delivering an excellent cutting performance. In order to achieve maximum power transmission from the 23 hp V-twin engine to the roller, the flail mower has been equipped with 3 cog belts and a powerful belt tensioner.
The tow bar is adjustable in five steps, it can also be positioned centrally on the chassis, which is unique for the industry. The flail mower can therefore be operated on both sides of your ATV; in other words, it can be centrally mounted and also right-hung on the chassis.
Increase speed with a flail mower fitted with a flap
Fitted with a flap at the back, which releases the grass to avoid excessive accumulation under the hood. You save on fuel and reduce wear on the belts, and you can also operate at a higher speed than an ATV flail mower without a flap. The grass is also spread more evenly.
Deals with tougher vegetation where there may be ground obstacles such as tussocks and roots
Used primarily for topping pastures, parks and road verges
Stable construction
Flail mower built for a long service life, so that you can spend your money on something else
Grease nipples on support and rotor roller bearings
Sealed cover over the belts
The whole construction is well-protected but easy to access for cleaning, servicing and repair
Wide support roller at the rear
The tow bar has five fixed lateral adjustments
Product code:
35-VKMATV150HXL
Tips for use
For best results, and a longer service life for belts, we recommend mowing at a speed of 10 km/h if the grass is of normal height. For higher grass, raise the mower to its maximum and mow twice.
Brochure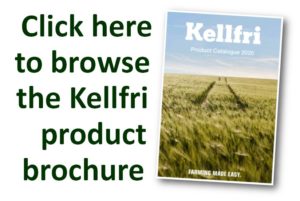 It is recommended to open the rear flap when cutting very rough terrain.