FlexiShed are one of the leading providers of high quality chemical storage units which have become an ideal solution for storing the material in a safe and secure manner. These chemical storage units are widely used in a wide range of industries and also in different types of sectors. Owing to the benefits of easy to use, erecting and dismantling, we are able to satisfy our large range of clientele with a simple, strong and secure solution.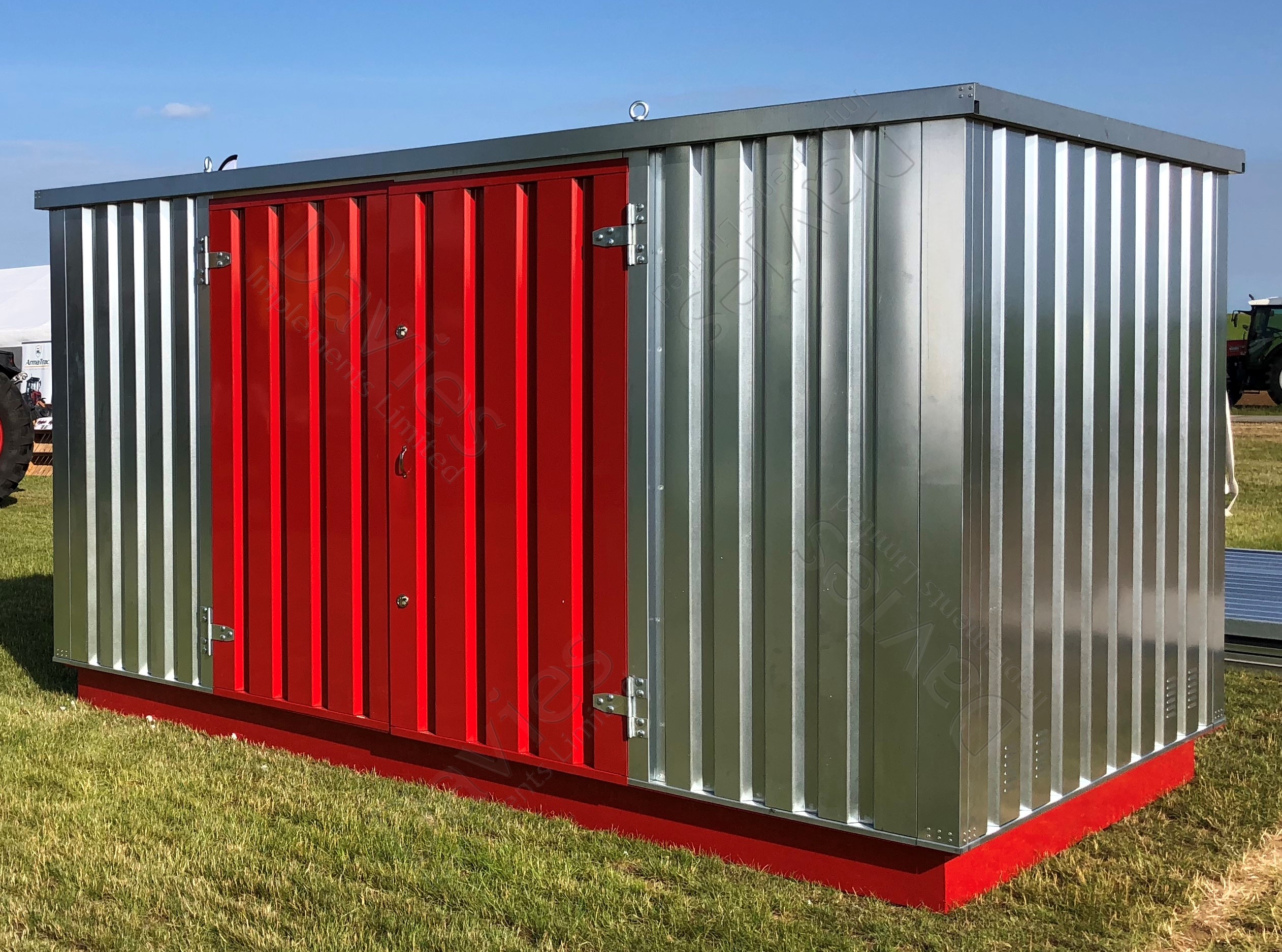 Features
Easily movable to other locations,
Highly flexible to mount and dismantle on the sites,
COSHH compliant – meeting relevant legislation for storing fuel and chemicals,
Enriched look, quality,
Compatible to the kind of work stations
Offers long life
No special tools and machinery are required while mounting and dismantling
Units are designed to link each other easily
Easy to assemble and ready use in about 45min
Since the units are easily convertible into flat-pack form, these can be assembled and dismantled multiple times without detriment to the structure.
The idea of chemical storage units is purely to provide an excellent flexibility along with the extended features of light enough components that are easily portable to anywhere on the site. We make sure every part of the components and unit are completely suitable to any kind of spaces such as:
Construction areas not having enough space design for other modules
Can be used at various types of business parks and factories
Chemical storage units also designed for the use of all types of agricultural and farm trades
The Chemical storage units from FlexiShed have numerous additional components and adornments that can be used to meet your all demands that include –
Available with full spectrum of sizes
Units can be easily integrated to develop large space
Designed with double doors for simple access
Sumped base is useful to gather spillages
Suspended floor grate
Racking units
Storage containers
Door closing kits
Technical information
The design and development of our Chemical storage units is done at the compatibility levels of all industries and individual needs. Components are from high quality raw material.
Dimensions
Length: 2.3m or 3m or 4m
Width 2.1m
Height: 2.2m
2243mm (L) x 2430 (W). Weight: 449kg
Sump capacity: 680 litres
2243mm (L) x 3160 (W). Weight: 556kg
Sump capacity: 904 litres
2243mm (L) x 4160 (W). Weight: 696kg
Sump capacity: 1212 litres
External height: 2247mm
Door width: 1900mm.
Sizes can be customized as per the order
Technical Details
Chemical storages units are un-insulated closed volume and demountable containers. Assembling of the units is very simple using the nuts and bolts which are enclosed along with the kit.
| | | | |
| --- | --- | --- | --- |
| FEATURE | EC2 | EC3 | EC4 |
| Finish | Galvanised with Powder Coated Doors | Galvanised with Powder Coated Doors | Galvanised with Powder Coated Doors |
| Length (mm) | 2243 | 2243 | 2243 |
| Width (mm) | 2430 | 3160 | 4160 |
| Height, flat packed (mm) | 300 approximately, being reviewed | 300 approximately, being reviewed | 300 approximately, being reviewed |
| Height, | 2247 | 2247 | 2247 |
| Height, assembled (mm) | 2247 | 2247 | 2247 |
| Weight (kg) | 449 | 556 | 696 |
| Door width (mm) | 1900 | 1900 | 1900 |
Construction Components
The essential construction elements of the hazardous arementioned below:
Floor grate
Chassis that includes sumped base
Roof panel
Side wall panels
Fasteneing elements
Double door panes with the features of advanced double locking system
Floor
Sumped chassis base consisting of suspended floor grate.
The floor has designed with the capacity load up to 1000Kg
Side walls & Roof Panels
Profile designed into box type
Each profile is extended with galvanised steel panels of 0.50mm size
Edges of each panels are designed with spot welded galvanised steel frame
Each roof of the man portable building consists of two integral gutters for effective drainage which allow excess rain water to run from all the conrners of the container.
Door
Door frames are designed with galvanised steel sheets measured at min of 0.50mm and the steel sheets are coated with cold formed powder
Door panels are developed with spot welding process
Width of double door measured 1900mm and mounted on the right and left with outward opening
Door is equipped with door handle, central roller catch and 64mm euro deadlock which can be replaced.
Doors can be located anywhere in the unit.
Fastening Elements
Rods measured at 12mm diameter are used to secure the roof to the chassis.
It also forms lifting eyes for use with a crane.
To prevent external access additional roof security bolts also supplied.
Packing
Our chemical storage units are specially packed to ensure they are not damaged during transport and while loading and unloading the material on sites at any circumstances. The smallest transportation cube is achieved in this packing process.
Powder Coating
All the doors and sump are powder coated in red (RAL 3000)
Prices can be varied depending on the space or building specification and requirements and also depends on the delivery/installation logistics. You can also let us know if you have any specific requirement by contacting us for a quotation.
Since we are into continuous development process, we have the right to change the specifications of materials without prior notice.