Adjustable pallet fork with 1.5 tonnes maximum load
Features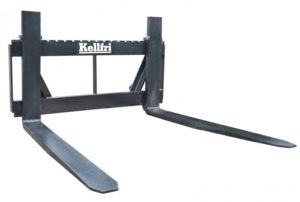 Frame width 122 cm
Frame height 50.5 mm
Pallet fork width 10 cm
Pallet fork length 100 cm
Forged forks with wide load bearing surfaces which distribute the load across a wide area. The low frame gives a good view.
A stable pallet fork supplied with Euro attachment.
Product Code:
16-JPFE15
Optional extra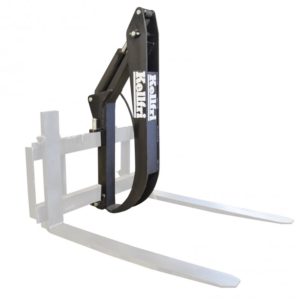 Grapple attachment that fits Kellfri's adjustable pallet fork with a low frame.
• Max. load 1,000 kg
• Hydraulic hoses 150 cm
• Hydraulic hoses Ø 2 cm
A cheap and easy way to utilise the pallet fork for loading timber or brushwood.
The grapple is controlled using a double-acting hydraulic cylinder. The grapple is fitted to the fork frame.
The grapple attachment requires a double-acting hydraulic outlet on the tractor.
The grapple attachment is supplied with two hydraulic ½ inch, quick coupling male hoses.
Brochure