Efficient cutting at an unbeatable price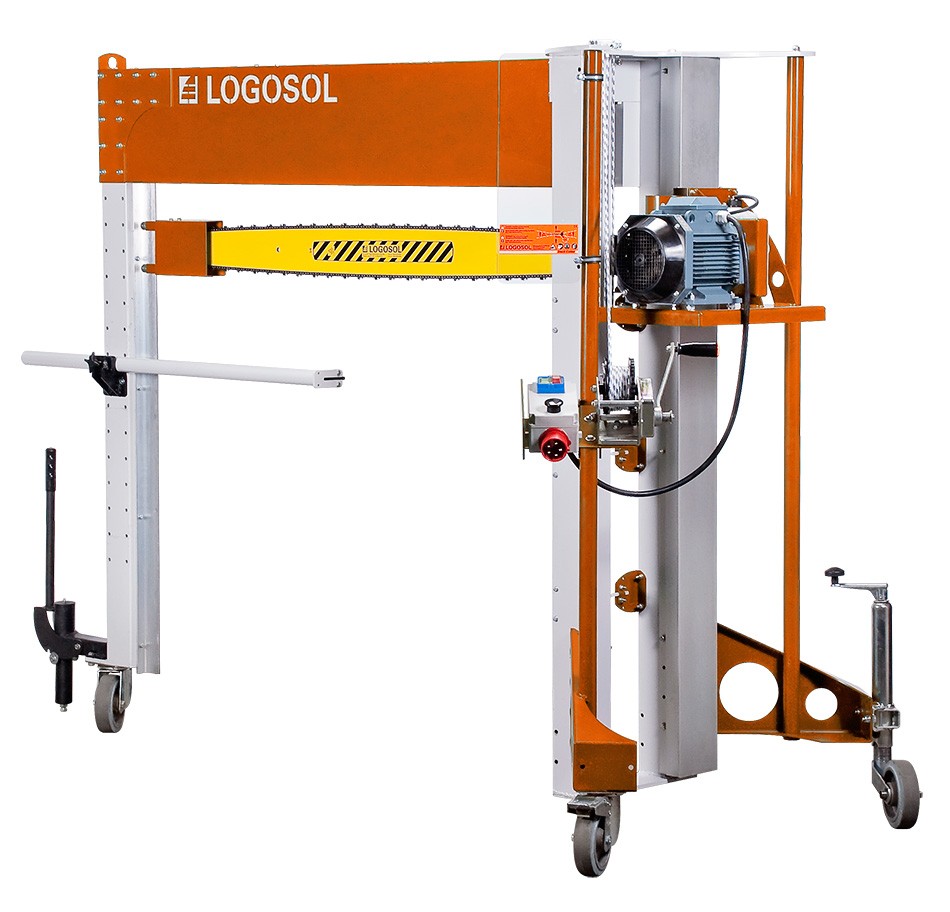 With LOGOSOL's stack cutter you cut the whole timber stack at once. Just adjust it to the desired length and let the stack cutter do the job — quickly and efficiently with an accuracy down to +/- 2 millimetres. The stack cutter takes the cut linearly vertically, a method that gives you increased capacity and flexibility. This machine is already appreciated by many who cut timber stacks. The 150 cm long guide bar is guided at the bar nose. The chain is a standard cross-cutting chain driven by a strong electric motor. The stack cutter does not take up a great deal of space, and it runs easily on its sturdy castors. The included measuring rod helps you measure the length of the stack. Many simple stack cutters fold the guide bar down through the timber stack. Vertical cutting is used by LOGOSOL's stack cutter and by significantly more expensive, professional stack cutters.
Features
Lightweight and sturdy structure constructed from aluminium beams – 100% anticorrosion protection.
Levelling sight assures precise alignment of sawing line.
Capable of sawing stacks up to 1.5 m x 1.5 m (5 ft x 5 ft). Precision +/-2 mm (1/16″).
Automatic saw lubrication by means of large transparent oil reservoir.
Maximum motor power 10 kW (14 hp).
Large wheels for easy movement.
Crank operated vertical angle adjustment.
Crank operated lifting and lowering of the saw unit.
Levelling arm to position the kerf.
Sawdust collection channel 4″ (100 mm).
Specification and technical data
Cutting bar
Please choose from 1.2m to 1.5m. The guide bar and chain is extra.
Working measurements
Maximum board stack for Stack Cutter 1500:
Max. width: 1450 mm (57″)
Max. height: 1450 mm (57″)
Dimensions
Stack Cutter outer measurements.
Length: 2600 mm (102″)
Width: 1100 mm (43″)
Height: 1900 mm (75″)
Electrical system and motor
The electric motor is a, specially wound, motor with a rated output of 5kW (7 hp). While cutting, the motor load is 7-8 kW. It is protected by a temperature sensor.
Total continous output: 5 kW (7 hp)
Electricity supply: 3-Phase, 400 V, 16 A
Also available as 3-phase, 220 V, 30 A
Insulation class: IP54
This insulation class means that the motor and the entire electrical system are unaffected by sprinkling water, thus capable of standing outdoors in the rain.
Sound level and ergonomics
The Stack Cutter 1500 is designed to provide the user with the best possible working conditions. The controls are positioned at work height and a Plexiglas sheet protects the operator against any flying chips. The sound level requires hearing protection.
Acoustic pressure: 102,0 dB (A)
Acoustic power: 113,0 db (A)
Vibrations in the controls: Very slight
Cutting equipment
Logosol has a deep experience with different cutting machines and have chosen a standard 3/8" cross-cutting chain for the Stack Cutter.
Chain pitch: 3/8″
Chain speed: 22,5 m/s (78 ft/s)
Chip handling
The Stack Cutter works perfectly well without any sawdust transport equipment. However, since this will create considerable quantities of sawdust on the work site, a chip and sawdust extractor is recommended. A simple accessory chip and sawdust extractor for the Stack Cutter 1500 is available to be fitted on the Stack Cutter support legs. Connecting the Stack Cutter to existing chip and sawdust evacuation systems works equally well.
Sawdust outlet (connection for flexi-hose): 100 mm (3 15/16")
Min. chip extractor capacity needed: 700 m3/h (24500 cubic ft per hour)