The following accessories are available for your F2+ chainsaw mill
Upgraded Saw cranking carriage and bar nose steering
SKU: 4525-001-0015
The accessory package includes a vibration-damping feeding crank making for more comfortable sawing and higher precision when making wide cuts and bar nose steering for 50 cm and 63 cm guide bars.
Water cooling is available as an optional attachment.(See below) It extends the life of the guide bar and helps the chain stay sharp longer. Perfect when you are sawing dry timber or hardwood.
Tip! The F2 saw carriage is compatible with all older Logosol sawmills.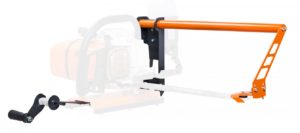 Water Cooling kit
SKU: 4525-001-0025
no image
Bed extensions
 1m extension – 2 x 50cm slide on rails
SKU: 4525-555-0001

1m extension – with 1 support leg
SKU: 4530-555-0002

2m extension with 1 support leg
SKU: 4530-555-0003

Support legs
Vertical support leg
SKU 6600-000-3005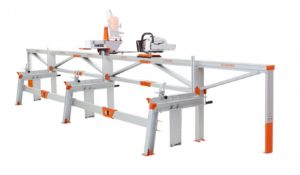 Extension 1.0 m including support leg & joint coupler
SKU 4525-555-0004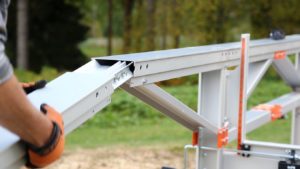 Log house moulder
The Log Moulder is available both as a chainsaw-driven and an electric model. Quickly and easily you mill both the top and the bottom sides of the logs. Knives for producing log house timber are available from 3 to 8 inches.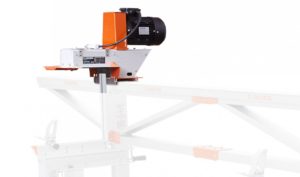 Other accessories
XL clamp
4508-001-1027
The clamping function of the log clamp is stepless and self-locking in all positions. The clamp arm can be folded sideways, and is by this also adjustable in height. In its uppermost position it clamps the workpiece 15 cm above the log bed, so that the workpiece is pressed against the side fence with great force.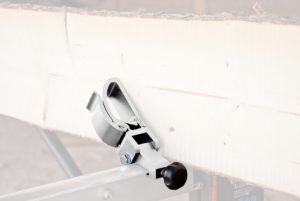 Round Sawing Attachments
SKU: 9999-000-1100
Cut up to 16 sides on the logs allowing the creation of a post. See video below.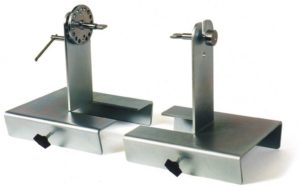 Versatile Log Fence
SKU: 4510-720-6104
Versatile Log Fence You quickly get extra support at the right height. This clamps below the rail bed.