Personalise your B1001 sawmill.
Non road legal trailer package  SKU: 8310-001-0035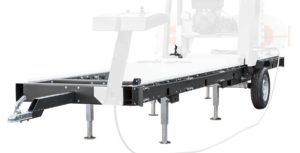 The sawmill, fitted with the trailer kit, will weigh less than 750kgs and is therefore unbraked. The kit can be retro fitted to the sawmill at a later date. Please note that this trailer kit is not legal for fast towing.
Smart two-position drawbar. The drawbar is pulled out when transporting and pushed back when sawing. This means that you can move freely around the sawmill without tripping over the trailer coupler.
The rail frame is self-supporting and reinforced at the wheel axle mounts.
Quick-release attachments for the fenders.
Attachment for securing the sawhead and the saw carriage during transportation.
Level the sawmill on uneven ground easily thanks to its adjustable support legs.
Road legal towing kit  SKU: Not available
Recently, new legislation was introduced affecting towed machinery. Logosol understand the importance of offering a road legal mobile sawmill and have developed a road legal kit. Each mill will need inspecting by the Driver and Vehicle Standards Agency (DVSA) for approval.  Please see in the gallery below for detailed images of the trailer kit.
1.15 metre bed extension  SKU: 8310-001-0005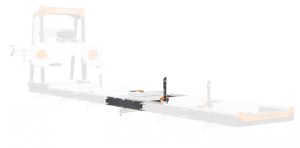 The rail can easily and quickly be extended with 1.15 metre sections.
Log handling package  SKU: 8300-555-0015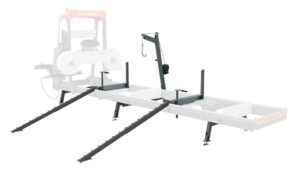 Save time and effort with smart tools! A complete package for log handling. Includes log loader/ turner, 2 loading ramps, 2 XL log handling, conversion kit for antitip plates, and 3 XL support legs.
Log Loader/Log Turner  SKU: 8310-001-0070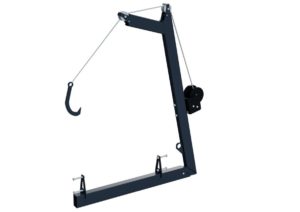 A smart crane with winch that allows you to easily load and rotate large logs on the sawmill. A roller with ball bearings on top of the crane helps when you are rotating the largest logs.
Tip! It will work more efficiently together with loading ramps and HD Log Handling.
Requires conversion kit for the anti-tip plates.
Log loading ramps  SKU 8310-001-0090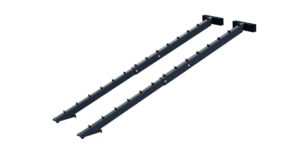 You can use the loading ramps in combination with the log handling package. Loading ramps with non-slipping devices make loading logs easier than ever.
Fits perfectly with our trailer kit when you set up the sawmill in new places. It is easy to roll up the log with the help of the winch wherever you are.
Heavy duty log clamps and rests  SKU: 8310-001-0080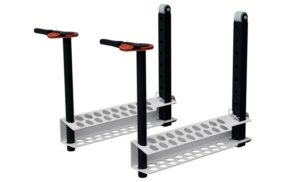 Extra strong log clamps and log supports that even hold the largest log in place. Safe and powerful loading and securing of the log. When you want to simplify when using the maximum capacity of the sawmill.
Due to the higher height of the sturdy log clamps and the log supports, the sawmill has to come up a bit from the ground to function optimally. This is easiest done by buying our HD Support Legs or Trailer Kit.
Smart Set – power feed with digital height adjustment  SKU: 8250-000-0020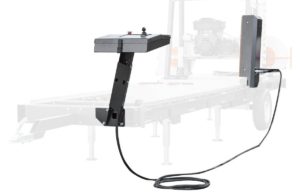 The new Smart Set is another big step forward for Logosol and their customers. With smart software and a lot of presets, you work quickly, easily and efficiently when you are sawing.
Smart Set gives you automatic feed and digital and motorized setting of each saw cut. With smart software and simple pre-sets, you work quickly, easily and efficiently when you are sawing. The digital sawmill control system Smart Set was developed with the operator in focus. Everything is controlled by a joystick and a few buttons. Cutting boards with high efficiency has never been easier and more fun.
✔ Smart Set is an optional attachment for the sawmill and can be purchased afterwards.
✔ Everything is controlled by a joystick.
✔ Display with measurements and information for the operator.
✔ Software-assisted saw settings.
✔ Automatic kerf compensation.
✔ Shortcut keys with selected sawing dimensions.
✔ Choose between sawing in mm or inches.
✔ Feeding with cruise control and quick reverse.
Manual Hydraulic Toe Board  SKU: 8310-001-0030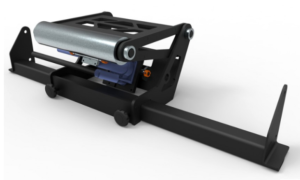 Manual pumped toe board for quick and easy adjustment of the top end of the log (used for heavy logs)
Protective cover for sawhead  SKU: 9031-011-0005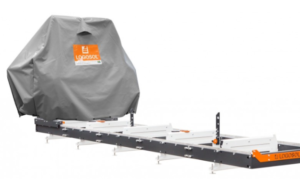 Protect your sawhead and the engine from the wet and cold.
Log rest holder bracket  SKU: 8210-001-0025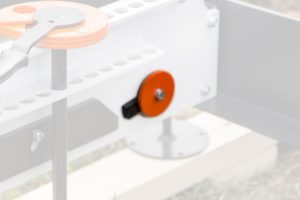 You may well need extras log rests if you extend the milling length of the mill or you mill shorter lengths of timber.
Log supports
Long supports  SKU: 8210-001-0015;
Short supports  SKU 8210-001-0030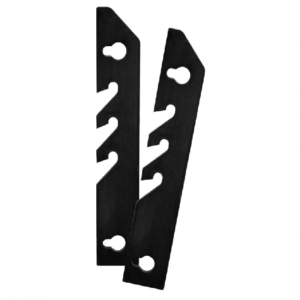 You may well need extra log supports short or long if you extend the milling length of the mill.
Extra log clamp and bracket SKU: 8210-555-0005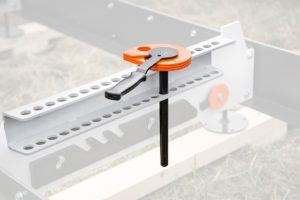 You may well need an extra clamp and bracket if you extend the milling length of the mill.