Super compact PTO saw bench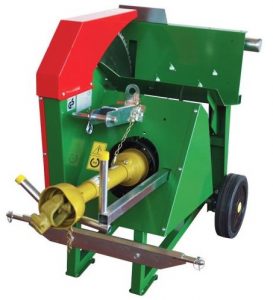 The Katana 700 has a 28cm capacity.
700 mm diameter steel or widia blade at choice, with 3cm mm dia. hole.
Metal guard for protection of the blade and it easy to remove and replace.
Multipurpose extension provides supports for logs being cut, helps move the saw bench around when not attached to the tractor and supports for PTO shaft when stored.
The anchor of the trestle is unbreakable as it rotates on oscillating bearings.
The cutting blade is protected laterally with guides.
The side feed guarantees stability and safety during the working phase even with heavy and hard-to-handle logs.
The semi-full wheels with 30 cm diameter make moving and positioning easier, also on the V.PF version for tractor.
Supporting logs swinging tank with insider anti rolling device.
Select the required length of timber with the adjustable bracket.
Transmission with aluminium gearbox for tractor model.
3-point linkage category 1 and 2 for tractor models.
Standard cutting control manually operated.
Transmission with long lasting, noiseless Poly V flat belt .
Exceptional performance
Safe-to-use, easy to handle and to store after work.
Replacing the blade is quick and easy.
Specification
Power requirement: 11hp
Maximum cutting capacity: 28cm
Blade revs: 1400rpm
Weight: 122kg
Overall dimensions: 60 x 80 x 120cm
Also available:
EL 230 Volt with or without flywheel
EL 400 Volt without flywheel
EL 60 Hz engine (upon request)
600mm blade with 22cm  capacity