Description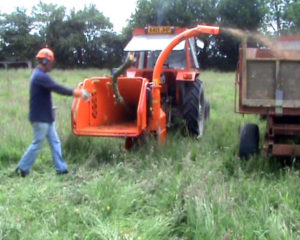 This self-contained chipper has evolved from the TW 150DHB model. Using your tractor, the TW PTO/150H gives the best value hydraulic chipping performance.
Having been designed for the larger estate and a busy landscape gardener, this chipper fits onto any compact tractor that has 6-spline 540rpm power-take-off shaft, category 1, three point linkage and 12 volt electric supply.
Unlike some PTO chippers, this chipper is completely self-contained with the Timberwolf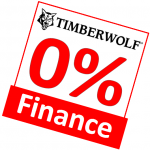 Auto Feed Control and its own hydraulic oil tank (chippers without self-containted hydraulic system may not be compatible with a tractor). The TW PTO/150H is ideally suited to tractors from 25hp to 60hp.
This chipper will easily tackle branches from 125mm (5") to 150mm (6") depending on tractor horsepower.
We occasionally get potential customers asking if the chipper can perform well on a small powered tractor, so, we decided to put the chipper to work on a 3 cylinder tractor with 26hp. The 'No stress' unit certainly kicked in sooner than if it had been powered with say a 50 hp tractor, so the output was reduced.  If you view the second video below, you will see that we tested this chipper with material from 3-4″ or 75-100mm in diameter.
Features and Benefits
This self-contained chipper is ideal for attached to a tractor and its features and benefits include:
Blades – easy to access and change, do not require shimming, can be sharpened up to 10 times with up to 25 hours chipping between sharpening
Clever rotor and blade design allows compact size that makes more efficient use of engine power compared to competitors
Legendary Timberwolf no stress control – fast reaction times ensure high efficiency, high throughput and constant discharge velocity
Independent hydraulic system to power the feed rollers is self contained. Does not rely on the tractors hydraulic supply. This makes it truly versatile and does not rely on being compatible with the tractors hydraulic system
Specification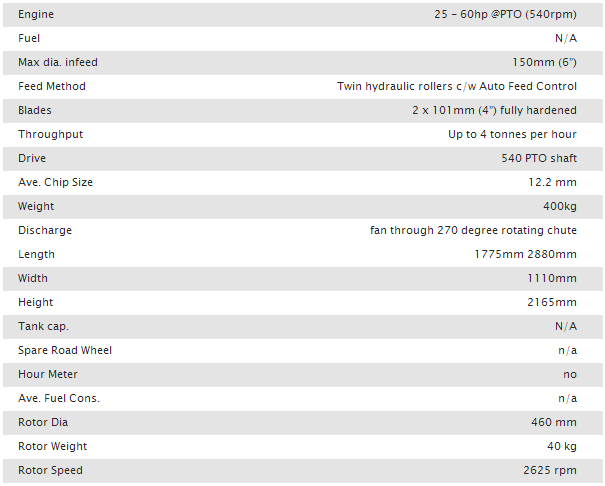 Warranty
3 years full parts and labour.
To validate warranty the machine must be serviced at an authorised Timberwolf distributor before the end of the 1st and 2nd year of ownership.
Optional Extras