Description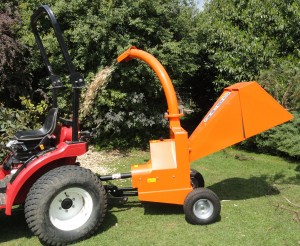 This is a versatile machine well-suited to estate life. With a low centre of gravity, easy tow chassis and good ground clearance this machine has a positive blade feed action and large feed funnel, as well as the ability to quickly process 75mm to 100mm (3"-4") diameter material at up to 1.5 tonnes per hour.
The PTO/100G has been designed for use by the medium to large estate and landscape gardener who has access to a compact tractor with a 6-spline 540rpm power-take-off shaft.
Ideally suited to tractors from 21hp to 35hp, it will easily tackle branches from 75mm (3") to 100mm (4") diameter, depending on tractor horsepower. The machine is fitted to a 'slow tow' chassis and does not require the use of the three point linkage.
Features and Benefits
As the best small estate wood chipper on the market, the TW PTO/100G has a full spec of excellent features and benefits:
Same unrivalled performance as the TW 18/100G
3 point linkage not required
"Positive Blade Feed" – ensures material is drawn into machine easily
Large throat area at base of feed funnel for easy loading of awkward shaped material
Blades can be sharpened up to 10 times, with up to 25 hours between sharpening
Fold up feed funnel in transport position
Low speed chassis fitted with turf tyres – idea for estate use
Light and manoeuvrable
Easy access to all serviceable parts
Towing eye fitted
Specification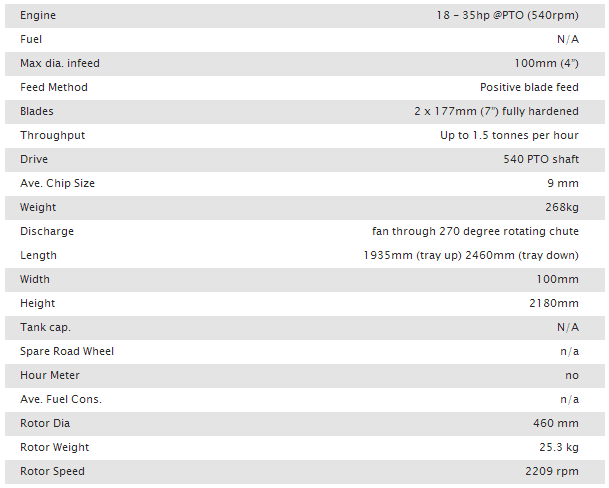 Warranty
3 years full parts and labour.
To validate warranty the machine must be serviced at an authorised Timberwolf distributor before the end of the 1st and 2nd year of ownership.
Optional Extras
None