HIT 690 N
Features include: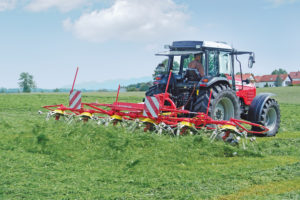 6.85m working width – 6 Rotor
6 tine arms per rotor
Tine savers as standard
Can do 3 x 8ft if swathed
Lift lock as standard
Heavy duty UJ's on drivelines.
Machine can run in transport position
Fenceline tedding as standard. Manual operation on each wheel. Pull cord from tractor or hydraulic option available
Intelligent details…read more

Specifications
| | |
| --- | --- |
| | HIT 690N |
| Working width | 6,85 m |
| Working width DIN | 6,45 m |
| Transport width | 3 m |
| Transport height | 3,85 m |
| Parking height | 3,35 m |
| Weight | 725 kg |
| Number of rotors | 6 pcs. |
| Number of arms per rotor | 6 pcs. |
| Type of tines | unequal leg length |
| Quality of tines | Super C |
| Tine security system | HEAVY DUTY as standard |
| Transmission | PTO shaft |
| Rotor diameter | 1,42 m |
| Fenceline spreading system | Mechanical individual wheels |
| Headstock suspension | Shock absorber struts |
| Tyres – rotor outside / inside | 16 x 6,5-8/16 x 6,5-8 |
HIT tedders – Intelligent details
Very robust and stable
The frame tubes (tube dimensions 70 x 7 mm) on HIT tedders are weld-free and are keyed and pressed onto castings for a permanent fit
High duty frame pivots with replaceable bushings
New clamp-mounted and reinforced safety guards increase rigidity
High quality paintwork – powder coated for elasticity and durability
Large flotation tyres ensure smooth running and protect the sward, even over bumpy ground
Transmission – Extended service life
The heavy duty HIT-Tech double c.v. joints are similar to those on a tractor's front half-shafts. Each rotor can move freely under full power in every position
Maintenance-free, sealed shaft joints
Rotors
Flat bar tine arms ensure fittings are secured safely and reliably
Each rotor hub features an additional support plate – increases the stability of the tine arm mountings
Fine teething allows adjustment of rotor angle in seven stages of one degree each
Different rotor diameters available for different operating conditions
Heavy Duty tines with a long service life
Double tines made from best possible spring steel
The curved mounting supports the tines and makes them harder wearing
Integrated tine security system with improved support of tine spring for even longer service life
Improved spreading quality and longer service life thanks to different
lengths
Tines can be set in two positions as standard – no tine gauge required
Transport
Hydro-comfort i.e. the outer rotors lift hydraulically
Fenceline tedding
Setting the wheels at an angle causes the tedder to run diagonally so the forage is not directed into neighbouring crops
The system can also be used on steep slopes – preventing the tedder from drifting downhill
the wheels can be adjusted to left or right
.