EUROTOP 620N / 620A / 762C – Centre swath rakes
EUROTOP 620N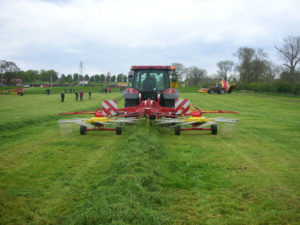 Features include:
The EUROTOP 620N is a compact twin rotor rake and is ideal when access is restricted.
Twin rotor machines have a fixed working width at 5.9m but the swath width is variable by changing the timing of the  cam tracks
Largest diameter cam tracks and the biggest bearing support distance on the market.
10 tine arms that are detachable
LIft lock on mounted machines
Twin rotor machines can run in transport position.
NEW – TOP 762C
The 762C is a new twin rake from Pöttinger that has been designed on high forage quality, perfect ground tracking and extreme manoeuvrability. The new centre-swath dual rakes have been developed to deliver unique manoeuvrability and protection of the ground and forage.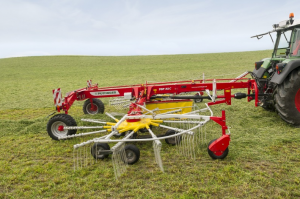 The new 

TopTech+ rotor unit

 combines proven technology with a new design: the new rotors are 3.30 m on the TOP 762 C and 13 tine arms retain their field-proven characteristics. 

Pöttinger offers the largest cam track diameter of 420 mm and a tine arm bearing spacing of 600 mm.
The large diameter and smooth cam track without steep inclines ensure uniform tine movement and give the tine arms maximum stability with minimum stress on the arm bearings.
The tine arms are easy to replace using just two bolts. If a collision should occur, a damaged tine arm can easily be removed and replaced. This is another positive contribution to ensuring availability of the machine.
The cam track can be adjusted according to changing forage quantities and harvesting conditions.
The rotor transmission unit is extremely rugged with the gears submerged in oil and completely sealed.
A large diameter gear wheel guarantees smooth running and a long service life. The complete system is fully encapsulated and sealed to keep out dust.
The new rotor unit guarantees more productivity, stability and reliability at the same time as enhanced service friendliness.
In spite of the impressive rotor diameter of up to 3.30 m the transport height is below 4 metres without having to remove the tine arms. These machines are also narrow during transport with a width of just 2.55 m (optional extra) for quick and safe transfer from one field to the next.
For the highest stability on slopes, the chassis frame is available with an outside width of 2.55 m (optional extra) or 2.90 m (standard)
The TOP 762 C have two different ways of adjusting the working width:
Version 1:  mechanical using adjustment spindle. This system provides working widths between 6.9 and 7.4 m on the TOP 762 C
Version 2: hydraulic. This system allows you to adjust the working width between 6.9 and 7.6 m on the TOP 762 C.
Rake Specifications
620N

762C – NEW

Working width
5.9 m
6,9 – 7,6 m
Variable working width adjustment
Yes – Mechanical
Cam track timing
Yes – Mechanical
Cam track timing
Hydraulic (Optional)
Rotor diameter
2.82 m
3,3 m
Transport width
2.7 m
2,9 m
2.55m (optional)
Transport height
3.4m m
3,99 m
Transport length
tbc
5,83 m
Parking height without tine arms removed
3.4 m
3,99 m
Parking height with tine arms removed
2.9 m
3,5 m
Tine arms per rotor
10
13 pcs.
Removable tine carrier arms per rotor
10
13 pcs.
Tines per tine arm
3
4 pcs.
Weight
860 Kg
1980 kg
Mounting
3pt linkage mounted
Trailed hydraulic folding
Tires – chassis
260/70-15,3
Swath placement in direction of travel
middle
middle
Height adjustment system
Hand crank
Hand crank
Axle (standard)
single
Optional Tandem
3-wheel chassis5 Wheel chassis (optional)
Rotor tires (standard)
16 x 6.5-8
16 x 6,5-8
Rotor unit

Toptech

Toptech plus

Wide angle P.T.O.
Wide-angle PTO shaft on one side
Wide-angle PTO shaft on one side
Multitast
N/A
Standard
Want to see more models  twin  rotor rakes  available from  Pottinger  please visit their website