Kranzle Colly 800 hand powered sweeper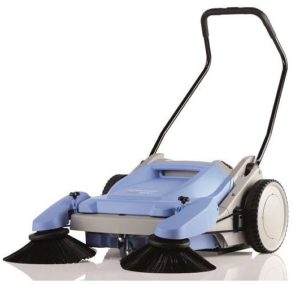 The Kränzle Colly 800 is designed for flexible indoor and outdoor cleaning operations without undue effort and ensures perfect cleaning results in all cases.
Frees dirt quickly and thoroughly from pavements, driveways and terraces. Also suitable for farms and agricultural businesses as well as workshops, warehouses, tradesmen and building cleaning services all benefit from cleanly swept areas.
The Kränzle Colly 800 is easy to handle, ergonomically designed and productive of efficient results, sweeping areas virtually dust-free, even problematic edges and corners.
DISTINCTIVE FEATURES
Hand powered – No engine
Very quiet
Dustpan principle
Ergonomic designing and ease of operation
Continuously adjustable push bar for comfortable and speedy sweeping action without putting unnecessary strain on the back
Cleaning system avoids direct contact with dirt
Simple handling and emptying of impact-resistant waste bin
Foldable, continuously height-adjustable side brushes
Large wheels fitted with natural rubber tyres for optimum transmission of force
Combined hard/soft stellar-shaped bristles
Comfortable, height-adjustable driving handle
FLEXIBLE USE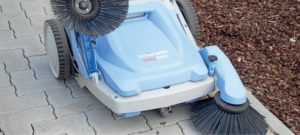 The side brushes on the Kränzle Colly 800 are continuously height-adjustable and can be folded up individually out of the way as required. The long bristles on the side brushes cater for perfect cleanliness even in difficult spots such as curbs.
PERFECT CLEANING RESULTS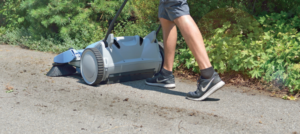 The smooth motion of the Kränzle Colly 800 in conjunction with alternating double bristles (hard and soft) securely collects dust, cigarette ends, dead leaves, small plastic items and bits of metal in the large-volume waste bin.
INTEGRAL FREEWHEEL SYSTEM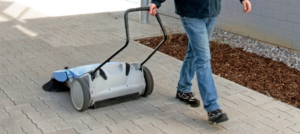 Forward motion actuates the drive system on the sweeper roller and side brushes. When the Kränzle Colly 800 is in reverse motion the sweeper roller and side brushes are decoupled from the drive system and assume a freewheel function. This ensures that the sweepings remain inside the waste bin.
EASY-TO-EMPTY WASTE BIN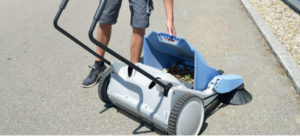 The waste bin on the Kränzle Colly 800 is easily detachable to facilitate emptying. A convenient carrying handle rules out direct contact with the sweepings. The waste bin is designed in such a way that it can be placed in an upright position.
SPACE-SAVING STORAGE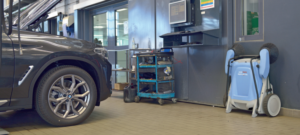 The compact dimensions of the Kränzle Colly 800 serve to provide extra usable space. A few simple twists and turns are all that are needed for efficient stowage when not in use. Simply fold in the push bar and allow the Kränzle Colly 800 to stand in a vertical position
Testimonial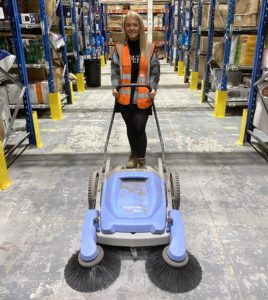 "The Colly Sweeper is a fantastic piece of equipment, and very satisfying to use. I believe that this Colly Sweeper will pay for itself in 3 months! It saves us so much time on keeping the warehouse clean, which is important as it means we can use this spare time to work on other tasks, thus increasing our efficiency."
Claudia Belli
bodysocks.co.uk / Bargainfox.com