Unique planer/moulder with a fifth cutter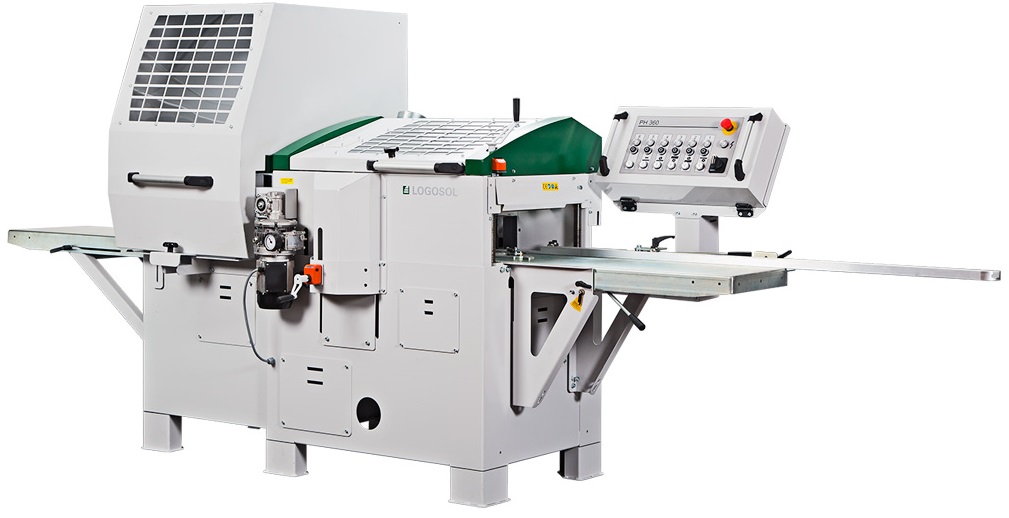 With the LOGOSOL PH365 you can produce complex profiles in one operation. For example, you can produce material for window manufacturing. This machine is the large four-sided planer/moulder PH360 that has been equipped with a unique fifth cutter. This cutter unit is developed from LOGOSOL's vertical milling machine MF30. It differs from everything else on the market by being able to be tilted through 270 degrees. This means that you can machine the workpiece from below, from the side or from above. You work efficiently with quick settings!
A machine of possibilities
For the LOGOSOL PH365 there are a wide range of endmills, brushes and sanding rollers. Ideal when you want to have an extra fine result.
With the fifth cutter you can produce elaborate products in one operation. This machine saves valuable time in the woodworking shop and adds competitiveness to your business.
• Polishing for a perfect surface finish.
• Brushing
• Sanding
• Roughening surfaces before painting.
• Moulding with very deep profile (up to 50 mm)
Remember that most of the tools for the Multimill MF30 also fit the five-cutter planer/moulder PH365!
Advantages
• The fifth cutter head can be tilted through 270 degrees.
• Quick settings.
• 30 mm spindle shafts, a wide range of sanding and brushing tools.
• Can be equipped with high-speed spindle for end mills.
• Separate motor for each cutter. You can do complex processing with all sorts of wood!
• Big vision panel in the cover. Easy to monitor the process.
Technical data
Top horizontal cutter
Diameter:   88 mm
Width:   510 mm
Power:   5.5 kW (7.5 Hp)
Rotational speed:   6000 rpm
Take-off when planing:   0-8 mm
Profile protrusion:   Max. 20 mm
Bottom horizontal cutter
Diameter:   72 mm
Width:   410 mm
Power:   4 kW (5.5Hp)
Rotational speed:   6000 rpm
Take-off when planing:   0-8 mm
Take-off when moulding:   Max. 10 mm (Groove milling: 15 mm)
Side cutters
Spindle diameter:   30 mm
Cutter height:   Max. 130 mm
Diameter:   Max. 140 mm
Power:   3 kW
Rotational speed:   6000 rpm
Fifth cutter
Adjustable angle,  270 degrees
Spindle diameter:   30 mm
Output:   3 kW
Rot. speed:   3000, 6000, 9000 rpm
Feed
Standard:  3-15 m/min
Electrical system
Total output:   19.25 kW (26 hp)
Electr. connection:   3-phase, 400V, 32A
US/CA:   3-phase, 230V, 63A
Dimensions and weight
Length:   3660 mm
Width:   1125 mm
Height:   1430 mm
Weight:   1000 kg
Chip management
Suitable chip extractor:   4 kW