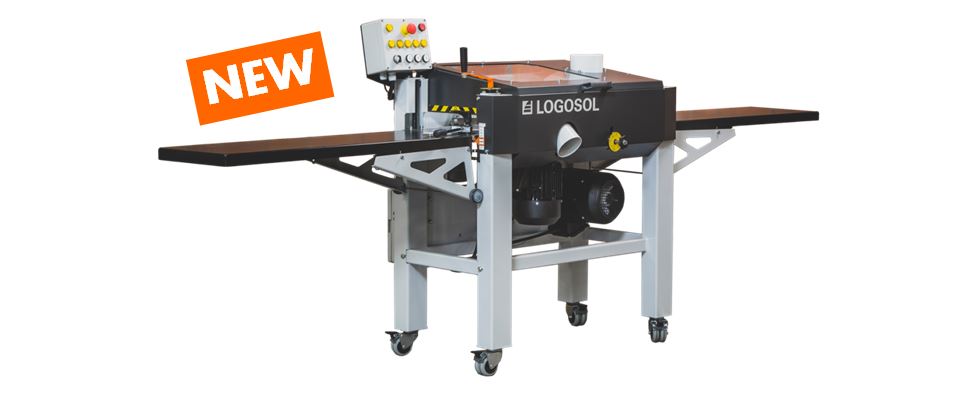 Logosol introduces the Logosol CH3 Multi-Head Planer, a planer/moulder adapted and optimized for sawmill owners. It is robust, easy to use and affordable, and they are convinced that it will be much appreciated by our customers. Production will start during the late Summer of 2021.
The supplier of our previous planer line has closed down its production in Sweden. Logosol have therefore decided to design and manufacture our own planers to ensure quality, supply and good customer service at all levels. The first planer to be introduced is the Logosol CH3.
User-friendly & robust multi-head planer of the highest class
The Logosol CH3 is the next-generation planer, developed and manufactured by Logosol in Sweden. With 25 years of experience behind them, they have designed a world-class planer adapted for high productivity. It is equally suitable for the big leisure interest as for the joinery and construction industry. With its robust, compact and user-friendly design, it is extremely affordable. Producing your own mouldings is a profitable form of wood processing for most building projects. This machine is very easy to use and simple to own.
The world's most easy-to-use planer/moulder
When you look at the planer, you will immediately understand how to use it. You monitor the planing process through the big vision panel, and under the cover all features are easy to access and pedagogically placed and marked. You quickly and easily install cutting tools for both dimension planing and moulding.
A perfect result at once
The machine is tuned from the factory in Härnösand, which means that you are up and running in no time. Width and thickness are adjusted by sturdy cranks and clear scales. Unlike previous planers, the vertical position of the side cutters is precisely adjusted from the factory. You get a perfect result at once.
Choose from hundreds of standard profiles or design your own
In Logosol's tool catalogue there are hundreds of different standard profiles to choose from. You can also order your own design or reproduce old profiles, which can be of great value if you, for instance, want to renovate an old house.
This is a machine they look forward to delivering to many customers. It is affordable, extremely easy to use and you can quickly get started with producing your own mouldings and panelling for your building projects.
Starter knives package
Logosol have put together a knives and gibs starter pack of what most operators want from their planer. The package includes: 8 pairs of moulding knives of HSS and 2 pairs of gibs. The starter package allows you to produce a wide range of profiles, such as:
T&G
Rounded T&G
Bevelled edge T&G
Rounded edge casing
Bevelled edge casing
Rustic style casing
Plain cornice
Swan neck cornice
Cove crown
Joists
Decking
Please view here the starter package available to purchase with the CH3
Sturdy, surface-treated machine tables
Logosol have replaced the traditional cast-iron tables with thick, laser-cut and precision-machined steel plate that is coated to never rust. They are even heavier and more stable than previous tables. Furthermore, both the cutter heads and the shafts of the side cutters are rustproof to allow the planer to be used in unheated premises and even outdoors for shorter periods.
Adjustable speed
You can choose if the machine should feed the workpiece with a speed of 3 m/min or 6 m/min. To get the finest surface when moulding, you choose the lower speed. In cases where the surface finish is less important, when producing construction timber for instance, the higher speed is preferable.
Sturdy, adjustable feed rollers
The feed rollers are fully 40 mm in diameter and have specially designed grooves for powerful feeding and to prevent the workpiece from slipping. Depending on the sort of wood and the width of the workpiece, you should adjust the pressure of the rollers accordingly. With the CH3 this is easier than with our previous planers, since the adjusting bolts are easily accessible from inside of the machine.
Separate motors
Separate motors for each cutter and feed roller give maximum power and flexibility.
Fast top cutter
The high rotational speed of the top cutter gives and even better surface than our previous planers.
Quick adjustment of the side fence
The side cutter fence is quickly and exactly adjusted by a lever.
Technical Data
3-sided machining (dimension planning)
Width: 25 to 205 mm
Height: 10 to 60 mm
2-sided machining (dimension planning)
Only the side cutters are used
Width: 220 mm
Height: 10 to 70 mm
Planning
Width: 300 mm
Height: 10 to 70 mm
Supplied cutter heads
Type TB90, planing knives
Diameter, body: 90 mm
Height, body: 40 mm
Top horizontal cutter
Diameter: 72 mm
Width: 300 mm
Power: 3kW
Rotational speed: 7200 rpm
Take-off: max. 8 mm
Profile depth: max. 20 mm
Side cutters
Spindle diameter: 30 mm
Cutter height: max. 40 mm
Diameter: max. 140 mm
Power: 1.5 kW
Rotational speed: 3000 rpm
Take-off: max. 20 mm
Planing knives HSS
Knife width: 50 mm
Feed
Power: 0.3/0.22 kW
Feed rate
Low speed mode: 3 m/min
High speed mode: 6 m/min
Electrical system
Moisture protection IP54
Total power: 6.3 kW
Electrical supply: 3-phase, 400V, 16A
Length: 1100 mm
Width: 720 mm
Height: 1115 mm (990 mm without the electrical box)
Weight: approx. 250 kg
Register your interest!
Are you interested in purchasing a planer as soon it is launched on your market? Email us at info@logosol.com and write CH3 in the subject line of the email, and they will contact you when the machine is quality-assured, tested and ready to be shipped. You are not placing an order, you are just expressing your interest, but your delivery will be given priority if you register your interest now.