This trailer is both suitable for towing with a garden tractor or can be moved around by hand.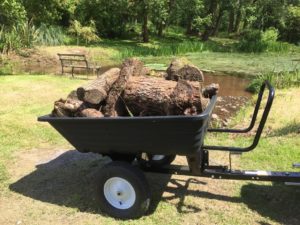 Make carting heavy stuff easy with this manual tipping  trailer with a Maximum load 500lbs or 250Kgs. Suitable for ride on mowers as well as small tractors or an ATV.
Approximate assembly time: 30 minutes Heavy duty plastic body. 275mm x 850mm x 1025mm.  Steel frame and axle. Fold away drawbar for use as barrow. Pneumatic tyres. Drawbar pin fitting.