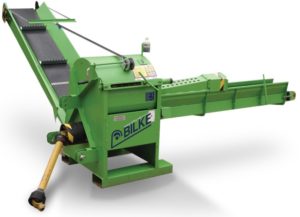 Working with the Bilke S3 PTO firewood guillotine processor is both easy and safe.Thanks to an automatic feed system, you do not need to support the stem while feeding it. Easily movable conveyors, a wide output conveyor and redesigned blade ensure comfortable use.
Thanks to the length adjustment system, the desired log length can be varied to suit your need. The splitter can chop logs to lengths of 23–55 cm.
The processor has a spiral blade cutter that splits the wood efficiently, producing an even cut. Thanks to the blade design, the power requirement for splitting and cutting is low.
Several thin stems and slabs can be placed on the conveyor simultaneously. Chopping several logs at the same time improves productivity!
The processor is supplied with a wide output conveyor that ensures that chopped wood is removed from the machine without jamming. Thanks to the wide conveyor, there is no risk of jamming even at high power.
The output and feeding conveyors move easily on a pulley winch. Preparing the processor for use or transport is quick and easy. Alternative power sources The processor is powered by a tractor or electric motor. Using an electric motor allows you to select the power to suit your need. Running the machine on tractor power take-off/PTO uses less fuel and produces less noise.
Specification
| | |
| --- | --- |
| Diameter of logs chopped | max 22.5 cm |
| Slab width | max 34 cm |
| Log length | 23–55 cm |
| Length of feeding conveyor | 200 cm |
| Length of output conveyor | 280 cm 380 cm with extension |
| Installation | 3-point linkage |
| Output capacity | 10–30 m3/h |
| Power supply | Tractor PTO |
| Power requirement | ca. 15 kW |