Speed up your fencing with with this gas stapler
The STOCK-ade ST-400i Cordless Fence Post Stapler – a 4mm diameter / 9 Gauge cordless fencing stapler that makes fencing faster, easier and more safer for the fencing contractor.
Just as powerful as the ST400 Fencing Stapler, the ST400i is not reliant on an air compressor and hose. It can fire up to 650 staples per fuel cell and 3000 per charge per battery (3.7V Li-ion battery).
£999 plus VAT (RRP £1,198.80 plus VAT)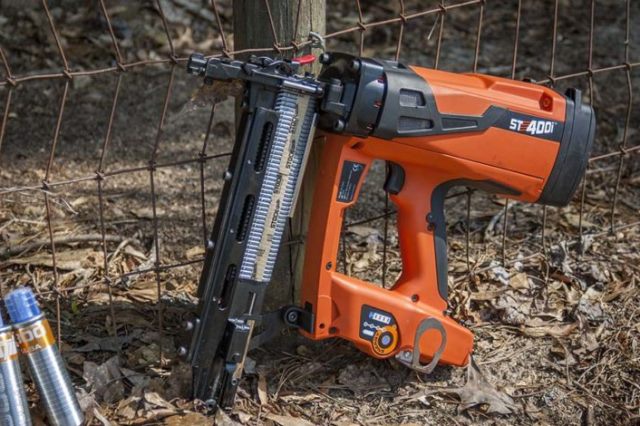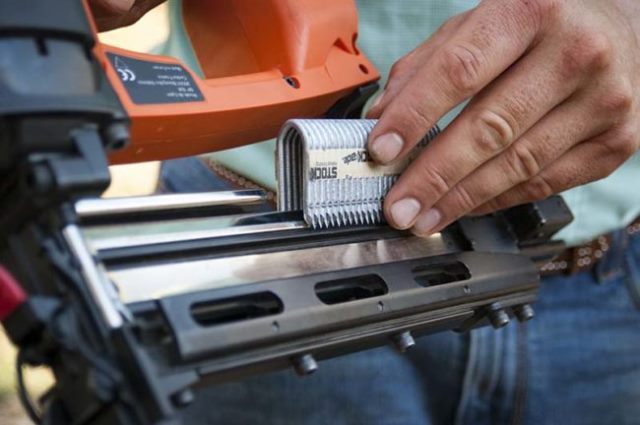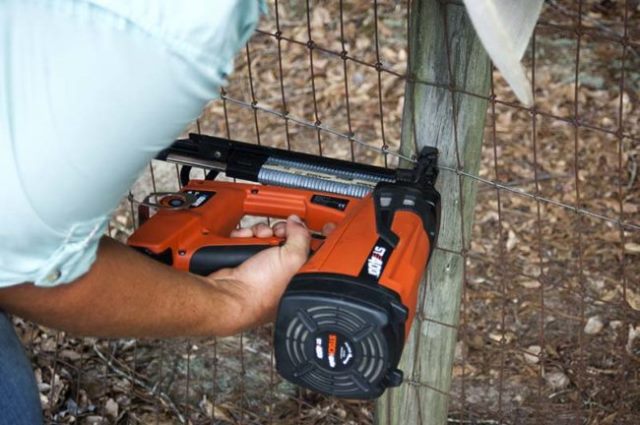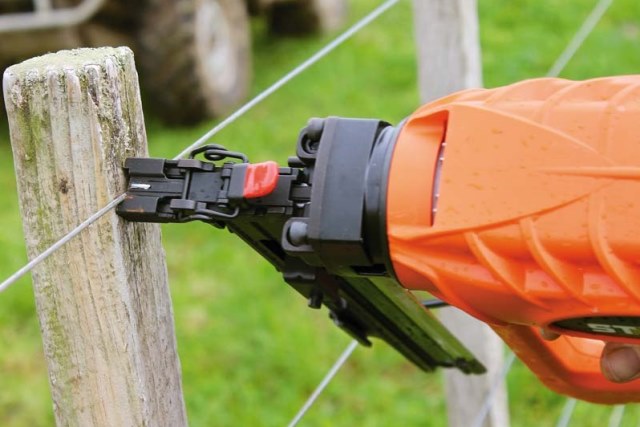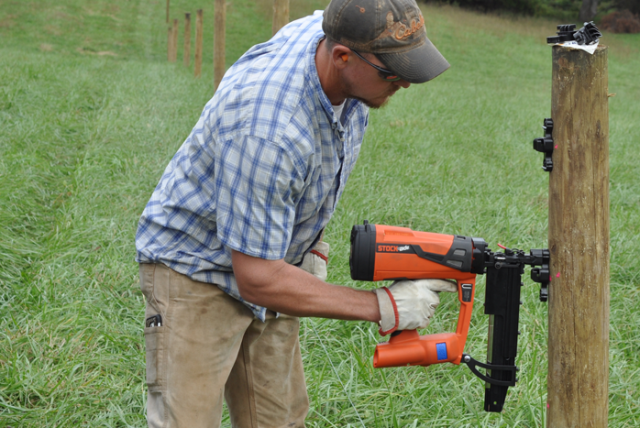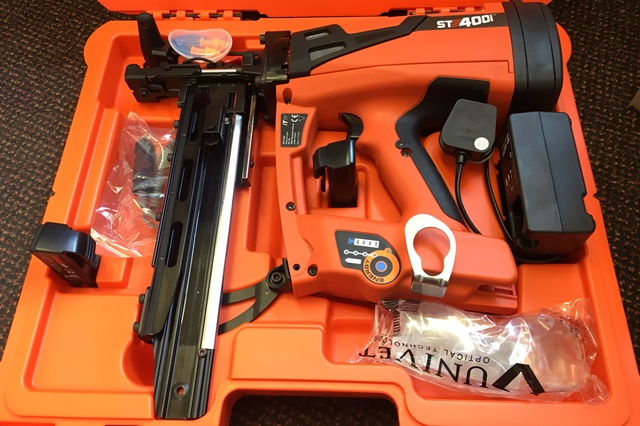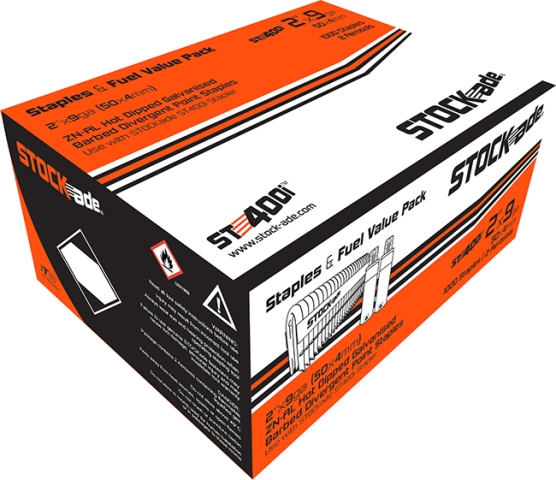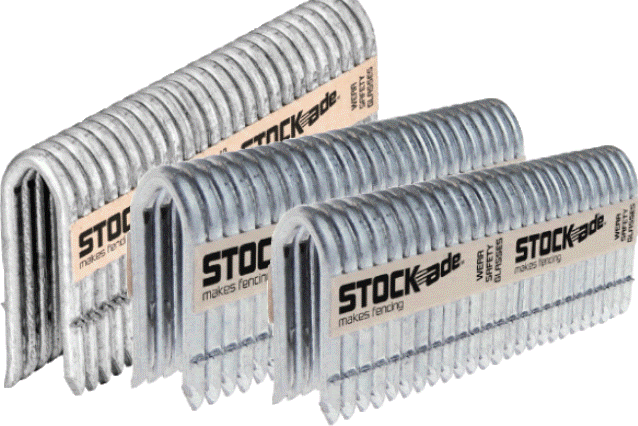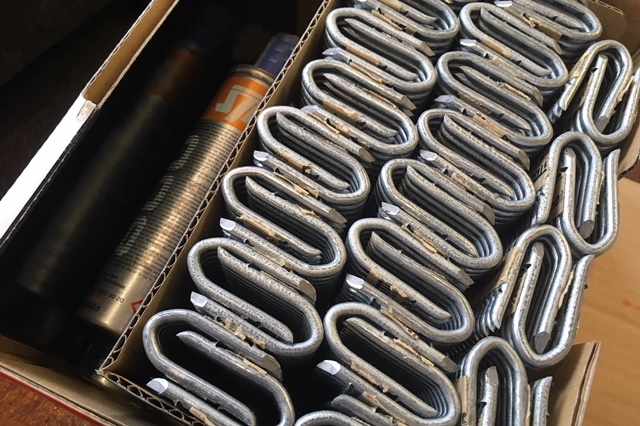 Features
Impulse Technology – Portable, no need for compressors or air lines; Fast, high output design; Drives up to 2 staples per second
Ergonomic Design – Comfort for periods of high use; Hose free for work in remote situations
Adjustable Depth of Drive – Greater flexibility for staple placement and a superior finish; Prevents damage to wire
Suitable for 40mm, 45mm and 50mm Length Staples – Ideal for rural wire and batten fencing applications
Suitable for 4.0mm Diameter Staples
Quick Clear Nose – Less downtime if fastener jams occur
Top Load Magazine – Easy and fast re-loading; Rail protection bars
Sequential Trigger System – Improved operator safety
V-Notch Guide and Wire Guide – Ensures correct staple placement for improved holding power
Applications
Rural livestock fencing
Horticulture
Rural heavy mesh and heavy woven fencing
Predator control fencing
Highway boundary fencing
Rural utilities applications
Specification
Product Code ST4iAP1
Product Size (WxHxD) 110mm x 370mm x 430mm
Packaged Size (WxHxD) 160mm x 470mm x 510mm
Tool Weight (with battery) 4.2kg
Packaged Weight 8.0kg
Quantity Per Pack 1
Cycle Rate Per Second 2 staples per second
Magazine Capacity (Short) 50 staples (approx 2 strips)
Battery Capacity (Maximum) Up to 3,000 staples per battery
Fuel Cell Capacity Up to 500-650 staples per fuel cell
Staple Range Length 40mm, 45mm and 50mm / 1 1/2″, 1 3/4″ and 2″
Staple Diameter 4.0mm / 9 Gauge
Staple Type Divergent point (hot dipped galvanised)
Battery 3.7V DC
Battery Recharge 2 hours
Fuel Cell STOCKade Impulse Fuel Cell
Propellant Liquid Hydrocarbon
Fuel Cell & Battery Storage Temperature -15°C to 49°C
Rated Input Voltage Battery Charger 100-240V 50/60Hz AC or 10-16V DC
Rated Output Voltage Battery Charger 3.7V 2.1A
Consumables
STSZ000008 – Pack consisting of 1,000 Staples and 2 gas canisters
STSZ000001 – Pack consisting of 1,375 Staples only