NOVADISC 265 / 305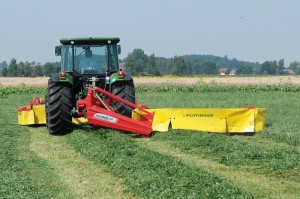 The NOVADISC range of mowers are available from 2.25m  and 4.00m. We stock the 265 (2.65m / 8'6″) and the 305 (3.05m /10′). These range of mowers have the Pöttinger's proven cutter bar across the whole range of mowers.
The features of the Pöttinger cutter bar are:
Top service cutter bar
Fully welded construction
Large oval discs with excellent blade overlap
Quick change blade system
Cool running cutter bar ensuring less ware
Every cutter bar is tested for noise and vibration before leaving factory
Heel mounted mower with No inner shoe. This avoids clogging when mowing through mown crop.
Semi rigid blade system – Blade are not free swinging hence the blades are fully extended at all times. This avoids striping and leaving uncut strips. This is especially important in heavy crops.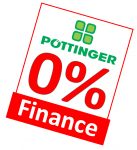 Other features include:
Lift and lowering of machine on tractor spool valve. The link arms remain level, which will cause less damage to PTO shaft.
Machine can run in transport position.
Ground following (must have float on tractor spool valve)
Toolbox on headstock.
Specifications
| | | |
| --- | --- | --- |
| | NOVADISC 265 | NOVADISC 305 |
| Mounting | Rear 3-point linkage | Rear 3-point linkage |
| Mounting category | Cat, II / 2 | Cat, II / 2 |
| Breakaway feature | Mechanical breakaway device | Mechanical breakaway device |
| Weight | 585 kg | 650 kg |
| Working width | 2,62 m | 3,04 m |
| Transport height | 2,9 m | 3,4 m |
| PTO Input Speed | 540 rpm | 540 rpm |
| Mower discs | 6 pcs. | 7 pcs. |
| Mower blades | 12 pcs. | 14 pcs. |
| Power requirement | 50 hp | 60 hp |
| Coverage | 2,6 ha/h | 3 ha/h |
| Outer track | 1,800 – 2,200 | 1,800 – 2,200 |
| Outer wear skids | 5 pcs. | 6 pcs. |
| Inner wear skids | 1 pcs. | 1 pcs. |
| High-cut skids outside | 5 pcs. | 6 pcs. |
| High-cut skids inside | 1 pcs. | 1 pcs. |
| Swath width without swath discs | 1,7 m | 2,3 m |
| Swath width with 2 swath discs | 1,5 m | 1,7 m |
| Swath width with 4 swath discs | 1,1 m | 1,3 m |
| Swath forming / Conditioner | Swath discs | Swath discs |
| Swath discs (Standard) | without swath discs | without swath discs |