NOVACAT 262 ED  /  302 ED – Vertical transport position
High performance, low drag resistance rear disc mower conditioners without inside skid and centre mounted cutter bar suspension.
Features include: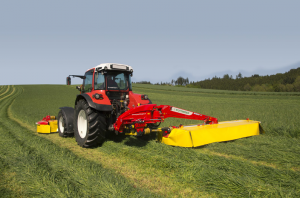 Centre pivot mounted mower for good ground following
Pöttinger proven cutter bar
Detachable conditioner for plain mowing. Ideal for whole crops etc.
Toolbox on headstock
Steel tines
Mechanical break back
Quick attach blade system
Conditioner hoods are designed to save power due to 'Venturi' effect allowing the mower to flow easier and swath better
Belt tensioner on outside and no need for the the guard to be removed.
Mounting configuration
Robust linkage frame with category li/Ill linkage pins
The mower is easy to hitch up thanks to the hydraulic mounting arm on the left-hand side – no need to adjust the linkage drop arm on the tractor
The headstock can be adjusted hydraulically from the tractor seat
Drive system 
Power is transmitted from the PTO shaft through the input gearbox to a driveshaft and the cutterbar gearbox
A constant velocity joint in the inside mower drum provides a stress-free link between the gear unit and the cutter bar
The driveline is protected by an overload clutch on the PTO shaft • A freewheel is integrated into the driveline
Weight alleviation and lift system
Hydraulic weight alleviation – infinitely-variable and adjustable from tractor seat. For best possible ground hugging to protect the sward.
Pressure on the ground is displayed on a pressure gauge.
Large freedom of movement: the centre pivot suspension allows the mower to respond more quickly to undulations. Greatly reduces side pressure and drag resistance
Transport position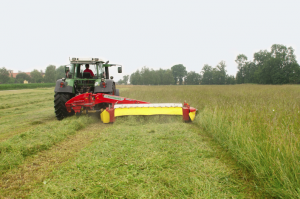 Folded into 115° 

vertical transport position

Optimum weight distribution for safe road transport
The lowered transport position achieves a low overall transport height
Unrestricted view to the rear for the driver and to the tractor's lights
Anti-collision device
Mechanical collision protection integrated into headstock
The whole mower unit can pivot 150 to rear if overloaded
Extra Dry Conditioner
Conditioners carefully rub the layer of wax covering the crop. The forage is then deposited across the full width in an airy blanket.
Shorter drying period in the field, less risk from the weather.
Increases energy content by up to 10% – saves concentrates.
Better silage quality due to rapid reduction in PH-value.
No tedding (or less tedding) required, which saves time and simplifies the process.
Careful conditioning process reduces loss due to disintegration of sensitive leaves – providing more protein for the silage.
Fewer passes protects the stubble and crop. Savings of much money a hectare per year are possible as a consequence.
For more information on the rear disc mower conditioners please visit the Pöttinger   website
.
Specifications
| | | |
| --- | --- | --- |
| | NOVACAT 262 ED – NEW | NOVACAT 302 ED – NEW |
| Mounting | Rear 3-point linkage | Rear 3-point linkage |
| Mounting category | Cat, III / 2 | Cat, III / 2 |
| Breakaway feature | Mechanical breakaway device | Mechanical breakaway device |
| Weight | 1130 kg | 1210 kg |
| Working width | 2,62 m | 3,04 m |
| Transport height | 3,6 m | 3,8 m |
| PTO Input Speed | 1000 rpm | 1000 rpm |
| Mower discs | 6 pcs. | 7 pcs. |
| Mower blades | 12 pcs. | 14 pcs. |
| Power requirement | 70 hp | 80 hp |
| Coverage | 2,6 ha/h | 3 ha/h |
| Wear skids | 4 pcs. | 5 pcs. |
| High-cut skids | 4 pcs. | 5 pcs. |
| Swath width with conditioner min | 1,2 m | 1,9 m |
| Swath width with conditioner max | 1,7 m | 2,7 m |
| Swath forming / Conditioner | Steel tine conditioner | Steel tine conditioner |
.