Alpha Motion NOVACAT 301 AMED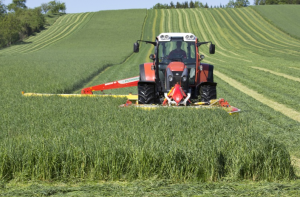 Behind the award winning new "Pöttinger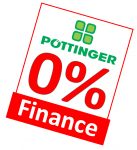 alpha-motion" front technology are the well-thought-out kinematics of the support frame. In contrast to "state-of-the-art" drawn rack systems, the support frame itself reacts to every unevenness of the terrain, as well as the connection rods. The mower unit is also raised when there is an incline and lowered for downhill slopes.
The end Result – unique adaptation to the terrain, which protects both turf and machine.
Two large springs are built in to the hitch-on rack. The springs ensure an even release of the mowing unit over a distance of 20" / 500 mm. A simple, yet highly effective release for all types of use. The geometry of the hitch-on rack is designed so that the center of gravity in all working positions is as close as possible to the tractor.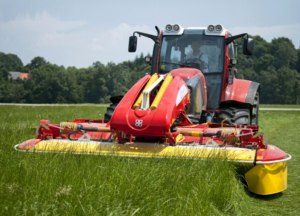 Perfect swath formation
The outer mower disc pairs rotate inwards. Swath formers place the cut forage in light and airy swath.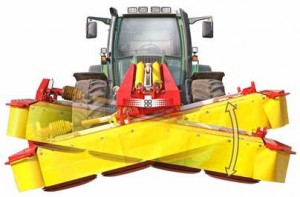 Unique transverse oscillation
Transverse oscillation of +/-16° is made possible by ball-and-socket joints in the connection rods.
Advantages:
Mower can float by +/- 9.84" / 250 mm, or 19.69" / 500 mm in total, above or below the tractors front wheel level.
Angle of inclination of cutter-bar self-adjusts by +12° upwards, -9° downwards,
so significantly less risk of soil damage and reduces wear.
Higher speeds can be reached – without having to remove the mowing unit.
Optimum protection of turf and machine.
Clearance of 13.78" / 350 mm on headland turns and transport setting.
Outstanding design provides perfect view of the mowing area.
Mower unit moves almost vertically, small slide paths on the drive shaft and significantly lower dynamic loads.
Fits tractors from 60 to 360hp
All Pöttinger mowers have the following features:
Quick attach blades
Top service cutter bar
Fully welded construction
Large oval discs with excellent blade overlap
In addition to this all Pöttinger mower conditioners can swath and spread
For further features on the  Pöttinger Alpha Motion 301 AMED  or other front mounted mower conditioners please visit the Pöttinger website
Specification NOVACAT 301AMED
| | |
| --- | --- |
| Mounting | Front |
| Weight | 1030 kg |
| Working width | 3,04 m |
| Transport width | 2,98 m |
| PTO Input Speed | 1000 rpm |
| Direction of rotation | Right |
| Mower discs | 7 pcs. |
| Mower blades | 14 pcs. |
| Power requirement | 60 hp |
| Coverage | 3 ha/h |
| Wear skids | 5 pcs. |
| High-cut skids | 5 pcs. |
| Weight alleviation | Counter springs |
| | |
| Swath forming / Conditioner | Swath boards |
| Swath discs (Standard) | 1 swath disc left and right |