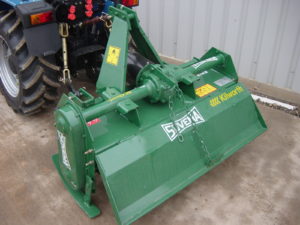 The Sovema RB/RP Rotary Cultivators are of proven design which has been sold in the UK for over 25 years. They are suitable for commercial use by landscape contractors and growers.
Heavy duty rotary cultivator designed for commercial use.
For cultivation in horticultural and landscaping applications.
For tractors 12 – 50hp.
Single speed gearbox and chain drive.
Adjustable skids for depth control.
Curved speed blades as standard (4 blades per flange – can be fitted with 6 blades per flange).
Model RBS has mechanical side shift adjustment.
Slip clutch on pto shaft.
Available Models
Sovema RB2/RP2
RBS2 Rotary Cultivators
| | | | | |
| --- | --- | --- | --- | --- |
| Model | Working Width | Overall Width | Weight Kg | HP Required |
| RB2 100 | 1.0m 40″ | 1.12m 44″ | 170 | 12-25 |
| RP2 120 | 1.2m 48″ | 1.32m 52″ | 265 | 18-30 |
| RP2 140 | 1.4m 56″ | 1.52m 60″ | 280 | 24-40 |
| RP2 150 | 1.5m 60″ | 1.62m 64″ | 290 | 26-45 |
| RP2 160 | 1.6m 63″ | 1.7m 67″ | 305 | 30-50 |
| RBS2 120 | 1.2m 48″ | 1.32m 52″ | 204 | 16-30 |
| RBS2 140 | 1.4m 56″ | 1.52m 60″ | 235 | 24-40 |