Plane and re-saw with the Logosol SH230 – a must for every carpenter and craftsman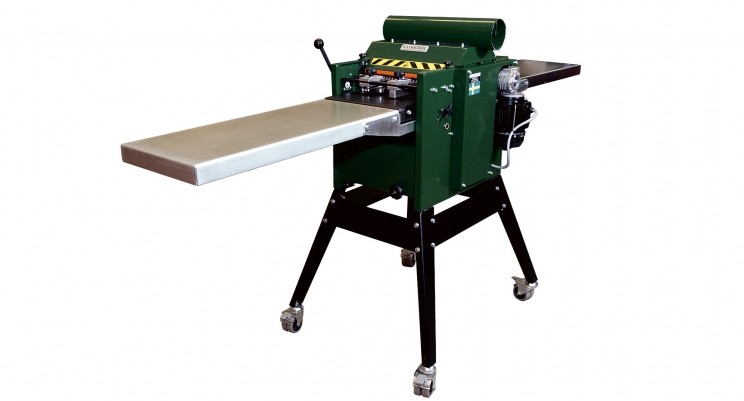 The Solo-planer belongs in every sawmill owner's and carpenter's workshop. It is a versatile machine which squares, resaws, planes and moulds. When you have got used to its high capacity and many possibilities, the Soloplaner will be indispensible.
The Soloplaner planes the lumber and cuts it to the right width in one single operation. What makes this possible, is the 230 mm (9″) wide cutter that has a circular saw blade fitted directly to its side. The cutter and the circular saw blade rotate at a speed of 6000 rpm, which gives a quality result both on the planed and the sawn surfaces. In Logosol's Moulding Knives Catalogue you can find several examples of mouldings you can produce. The moulding knives can be utilised at the same time as the planing knives.
Planing and squaring
The Soloplaner is mostly used for planing and squaring. The boards are cut to the right width and are simultaneously planed. If you want to machine all four sides, you just run the board twice through the machine. Height and width settings are made in two simple operations.
Moulding with the Soloplaner
Moulding is another field of use. With the Soloplaner you can machine plain boards into valuable panelling, crown mouldings, skirting boards, door and window frames, etc. The moulding knives are of HSS quality and they stay sharp for 3000-6000 meters (10 000–20 000 linear feet) of lumber. The knives can be sharpened 5-10 times.
Features
Convenient lever for quick adjustment of planing height.
Setting for board squaring takes a few seconds.
A wide range of moulding knives. Mounting only takes 5–10 minutes.
100 mm (3 15/16″) connection for chip extractor.
Pressure roller and fence guide the workpiece straight through the machine.
Abutments for in- and out-feed tables of wood or steel.
Rust proof for outdoor use and minimal maintenance.
6000 rpm ensures a smooth surface finish.
Resawing, planing and moulding can be done at the same time or each separately.
Easy adjustment with user-friendly scales.
Max. dimensions of finished product: 230 x 52 mm (9 1/8″ x 2 1/16″).
Accessory: adjustable feeder 2-12 m/min (7–39 ft/min).
Specification
Planing width: Max. 230 mm (9″)
Planing height: Max. 52 mm (2 1/16″)
Moulding depth: Max. 15 mm (5/8″)sh230_illustration_sv
Number of rev. cutter: 6000 rpm
Number of rev. saw blade: 6000 rpm
Saw blade diameter: 180 mm (7 1/8″)
Total continuous output: 3.2 kW (4.3 hp)
Feed rate: 5 m/min (16 ft/min)
Electricity supply: 3-phase, 400 V, 16A
Weight: 198 lbs (89 kg)
Height, length, width: 610 mm, 710 mm, 610 mm (24″, 28″, 24″)