Take this super fast and rapid splitter anywhere…splits logs in seconds!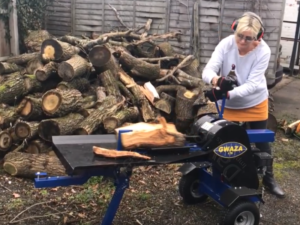 This log splitter uses kinetic energy to split logs fast thanks to the two flywheels spinning providing instant power in a matter of seconds. Designed, to process a significant more amount of timber, possibly 3 to 4 times that of a traditional hydraulic log splitter, you'll get the job done in a flash.
It's extremely easy and safe to use as both hands are required to operate the splitter, one to engage the drive mechanism, the other to release the ram.
The Gwaza Kinetic petrol log splitter comes with a log support tray and stand, therefore, it is high enough off the ground so that the operator doesn't have to bend down. It can also be towed around with a compact tractor or an ATV. A 50mm towing ball can be fitted if required. The log splitter has a rear table fitted, as standard, to allow the operator to collect and re-split the timber again, if required. The tow bar can be removed. Not suitable for fast towing.
The above logsplitter is not suitable for commercial work. Suitable protective clothing should be worn during operation.
Product Code: Gwaza 17460
Specifcation
Rapid – 15 ton capacity.
6.5HP 4 stroke gasoline engine.
Max log length: 460mm.
Max log Ø: 240mm.
Working table height: 665mm.
Wedge: 160mm H x 25mm W.
Dimensions: 1890mm x 665mm x 900mm.
Pneumatic tyres: 13×5.00-6.
Can accept 50mm tow hitch