Description
The TW 190 TDHB packs quite a punch in chipping performance. Combining a 45hp Kubota turbo diesel engine with a heavy-weight chipping motor, large feed rollers and over-size feed funnel, its unbeatable performance is complemented by its compact design.
Satisfying the most demanding of professional users, this heavily engineered chipper is ideal for contractors and has been designed to work 24-7.
An added bonus is that even after years of work, this sought after machine can be worth thousands more than other makes of a similar age and condition.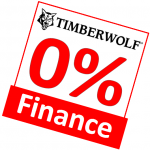 Time is money and the TW 190TDHB wins hands down with its ability to keep a gang of workers busy and get the job done more quickly and easily. For servicing, the split rotor housing allows easy access to the double sided 5" blades.
With its simple design and long life components, you can trust the TW 190TDHB to work reliably for longer, living up to the demands and expectations placed upon it, as an essential piece of equipment for your business.
Features and benefits

The TW190 TDHB has many benefits and features, all of which contribute to making it one of the best heavy duty chippers on the market.
Reliable and powerful Kubota 4 cyl. Turbo diesel engine
Split rotor housing for easy access to blades and rotors
Blades – reversible double edged for long life. Up to 500 hours life per set. Do not require shimming
Clever rotor and blade design allows compact size that makes more efficient use of engine power compared to heavier and larger designs
Legendary Timberwolf no stress control – fast reaction times ensure high efficiency, high throughput and constant discharge velocity
Proven feed roller design with replaceable teeth for easy feeding/long life, plus 4 x springs gives powerful 'crushing' ability to rollers
Modular construction of feed funnel, roller box, rotor housing, engine bay and chassis ensures exceptional strength, accessibility and ease of maintenance
"Safety Plus" features – large robust safety stop bar coupled with additional back up stop switch, plus reverse feed control switch operates independently of safety stop bar, for maximum operator safety
This is a "24-7" contractors' machine capable of keeping 4 people busy
Adjustable discharge spout rotates through 270 degrees
* Engine manufacturers quoted figures
Specification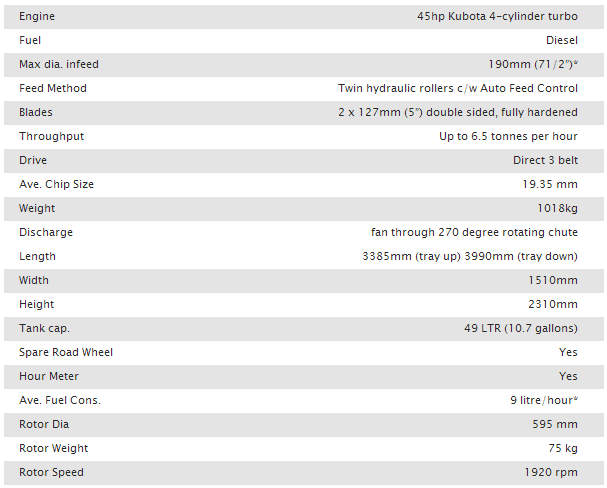 Warranty
3 years full parts and labour.
To validate warranty the machine must be serviced at an authorised Timberwolf distributor before the end of the 1st and 2nd year of ownership.
Optional extra's