Description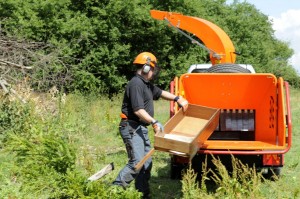 Designed to meet the demand for a heavy duty, versatile, professional shredder, the TW S426TDHB has been specifically designed for councils, landscapers, waste management contractors and anyone with a commercial sized waste problem.
Bulky and awkward material is drawn effortlessly into the huge feed funnel by the 'oversize' feed roller, through the large infeed, (426mm [17"] x 230mm [9"]).
From here, the 18 heavy duty forged steel hammers which are made to work in harsh conditions, process material which is then ejected through the high volume directional discharge with boosted 'air-assist'.
For faster processing of green waste, sharp profile hammers, as used in the TW SX200 shredder, can be fitted.
Processing is monitored and controlled by the electronic auto-feed device, with auto back-off, to give consistent performance.
Features and benefits
This shredder is capable of shredding a wide range of industrial materials. Its key features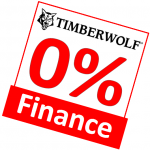 and benefits include:
Extra large feed inlet 426 mm (17″) x 230 mm (9″)
Oversize feed roller will handle bulky and awkward material easily
Reliable and powerful Kubota 4 cyl. Turbo diesel engine
Easy access to rotor housing for inspection/cleaning
Half length safety curtains
Tough forged steel long life hammers with teflon coated brushes
Dual control boxes on either side of feed funnel
Load assist funnel design
High efficiency shredding mechanism with 'anti-wrap' design
Boosted 'air assist' discharge rotates through 270 degrees
Timberwolf's legendary fast acting 'no stress' device
Auto back-off prevents material from rubbing against hammers and allows engine to accelerate back quickly to working speed
Replaceable roller blades
High throughput – up to 3 tonnes per hour (depending on material)
Available with standard hammers, or sharp profile hammers for green waste
Unique grading fingers to regulate material size
* Engine manufacturers quoted figures
Specification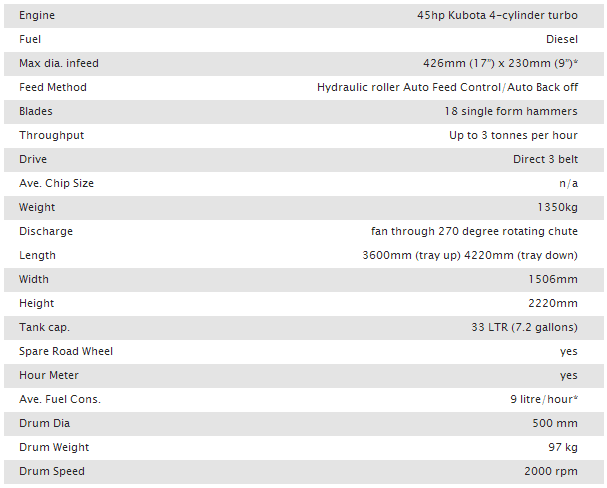 What Can I shred?
GREENWASTE
CONTAMINATED TIMBER
UPVC PLASTICS
CHIPBOARD, MDF and PLYWOOD
PLASTERBOARD
DOORS (INCLUDING FITTINGS)
IRRIGATION AND DRAINAGE PIPE (NOT METAL REINFORCED, OR ALKATHENE)
CARDBOARD/PACKING MATERIALS
FOAM INSULATION
JOINERY/FENCING OFFCUTS