Allman Farmer 400 – REDUCED TO CLEAR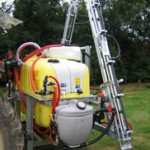 The farm business aims for more precise control of inputs. It seeks enhanced crop quality and needs affordable, effective application equipment. Only available is the 400 litre model with 8m booms
The FARMER range of tractor mounted sprayers continue a long Allman tradition of producing effective spraying equipment without baffling the user with complicated controls or over sophistication.
Designed for tractors as small as 20HP 'mini' tractors favoured by landscape gardeners and amenity users right up to 90HP agricultural workhorses, the FARMER range offers straightforward practical spraying for the least cost of ownership.
The British made Allman FARMER range of tractor mounted sprayers offer more than just value for money. They embrace the whole Allman philosophy of continual product development and long term parts and service back-up.
Allman FARMER sprayers are fully equipped for smaller to medium sized spraying tasks and farms. All models feature a clothing locker and clean water tank for safety.
Allman rollervane pumps are tried and tested and cost effective.