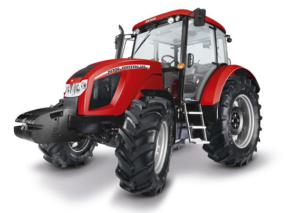 Tractors Zetor Forterra have the power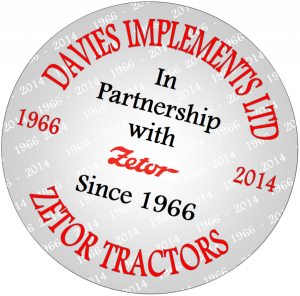 range category from 96–136 HP with an attested design of robust Zetor engines and exceptionally good power shift parameters.

Engine
Zetor Forterra tractors are powered by their own range of Zetor 4 cylinder engines, turbo- charged and inter-cooled engines that use latest technology to deliver exceptional power with torque backup of up to 37 % and outstanding fuel economy. These engines are designed with a viscous clutch of fan that contributes to their cost-effective operation and noise level reduction.
Transmission
A smooth shifting 24×18 three speed power shift transmission with forward

synchroshuttle and three speed power shifts are controlled by stick mounted buttons. All models are equipped with cerametalic clutch plates for enhanced performance and reliability. The hydraulic circuits of power shift and PTO are designed with a new electro-hydraulic distributor.
Hydraulic system
Powerful electronic hydraulic with 5.8 tonne lift capacity is in standard equipment of all models, as well as lower link sensing.
Cab
The tractor cab has all of the main controls ergonomically placed with an analogue display that is easily legible.
New elements of the cab:
180 l fuel tank capacity, optional
New roof
New placement of the battery under the cab
Galvanised steps
New interior enhancements:
The right mudguard has an integrated cover for the hydraulic controls panel with a storage compartment, a 3-plug connector and a lighter
New flooring – creates a higher noise reduction
Front Three-point Linkage and PTO (optional):
Forterra tractors can have the optional three-point linkage and PTO (Zuidberg)
The new implementation of the optional three-point linkage has a lifting capacity of 3500 kg
The front PTO has a wet disc clutch with electro-hydraulic controls
The maximum output of the front PTO is 60 kW
Tail pieces of the front PTO have 6 or 21 splined shafts as an option
Tractor Chassis
New tyre dimensions: 600/65R38, 520/70R38

Please visit youtube If you would like to view more footage of the Zetor range of tractors working.