When quality comes at exceedingly good value
We are delighted to announce that we have been appointed main dealers ArmaTrac in South and West Wales.
We feel that ArmaTrac tractors, which combines proven quality with simple engineering, offers exceptional value for money. ArmaTrac tractors start with a price tag of £17,500 plus VAT. The 113HP ArmaTrac 1104 Lux model, with the British built Perkins engine and German built ZF transmission and axle, sells out for only £34,500 + VAT.
ArmaTrac offers 2 years warranty.
For the time being, please visit ArmaTrac.com for more information about the ArmaTrac range. 
52 years as Zetor dealers
The image of a load of four new, shiny, red tractors flying through the middle of London on the back of a Commer lorry must have been quite a sight – even back in the pre congestion-charge days of 1967. Having been collected from the docks in Sheerness, they were on their way to Davies Implements in West Wales after Tom Davies and his young son, Gareth, had secured a deal to become main dealers for the newly imported Czechoslovakian Zetor tractor in December of 1966. Being the first manufacturer to offer four-wheel drive in the UK, and with a one year waiting list for a Massey Fergusson, the Zetor 3045 tractor, at £779, was a hugely attractive proposition.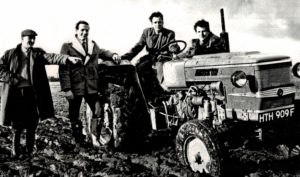 The first customer to bravely place an order for this previously unknown brand was Mr. Jones, of Down Farm, in Llansteffan. His purchase was swiftly followed by a raft of orders and, over the intervening 52 years, thousands of Zetor tractors were sold to toil on the hilly and scenic lands of West Wales.
We, at Davies Implements, have been proud and loyal ambassadors of the Zetor brand and are hugely indebted to all our customers for the support, friendship and the wonderful, kind hospitality that has been offered to us over the decades. We are also hugely indebted to a long list of wonderful employees and contemporaries that we have had the privilege of dealing with throughout the long and happy relationship we have had with the Zetor brand. However, after very many weeks of careful deliberation, we are very proud to announce that we have agreed to become main dealers in West Wales for ArmaTrac tractors and will cease to be dealers for Zetor Tractors. We would, however, like to stress that it is our priority to ensure that we continue to support all our existing Zetor customers with any parts, service or repair requirements they may have.
We would like to re-iterate our very grateful thanks to all our customers and our commitment to them in providing our continued support.